It can happen to the best of us. We start off the year with big ambitions, certain our sales team is gonna crush it. We're making lots of calls, selling to new customers, and getting our product out there.
But soon, we wonder: how are we actually doing? Are we on track to meet our revenue goals for the year? Should we focus on building outreach or closing more deals?
This is where a sales plan can make all the difference. Goals and objectives are clearly stated, day-to-day tasks are aligned with company priorities, and sales reps are working towards individual goals. It's a beautiful thing.
And it doesn't have to be hard. In fact, we've put together this guide to make the sales planning process as easy as following a template. Let's get started.
What's a Sales Plan?
A sales plan is a forecast of the sales you expect to achieve and how you're going to get there. It typically covers important elements like:
Past performance numbers
Sales operations strategies
Sales forecasting
Current goals and objectives
An action plan for finding and selling to new customers
Having an action plan in place for your sales process aligns your team's day-to-day actions with your company's priorities and business goals.
So, for example, if you're trying to sell to a very specific target market, your team should focus on account-based selling as opposed to lead generation. If you're looking to generate new business or break into a new market, you should focus sales activities more on outreach and prospecting.
An action plan also empowers you to spend more time intentionally working towards your revenue targets, rather than getting stuck in reactionary mode dealing with daily hiccups and distractions.
What's Inside a Typical Sales Plan? (Plus a Free Sales Plan Template)
While there isn't a one-size-fits-all solution for developing a strategic sales plan, a good plan usually includes the following:
Company mission and vision statements
Realistic, time-based goals with action steps to achieve them
Purposeful tasks and daily activities for your sales reps to achieve
Proven sales strategies to improve outcomes and get results
Lead generation tactics for finding new customers
Metrics you'll use to see how your team is progressing
Download Your Free Sales Plan Templates Today
Want to build your own sales plan that kick-starts growth? Grab our Sales Success Kit. You won't only get a sales strategy, you'll get:
Templates for sales planning
Checklists for things like sales calls and hiring
Worksheets for overcoming objections
Guides for writing sales scripts
…and more to help you set up strategic sales planning and goals for your team.
8 Steps to Build a Sales Plan that Drives Revenue
In this section, we'll go over the steps you need to take to build a strategic sales plan that gets the kind of results you're looking for.
1. Determine Your Primary & Secondary Sales Goals & KPIs
A successful sales plan begins with setting goals. These goals will be the targets your sales reps are working to reach—so it's important to define them carefully.
When determining your goals, keep the S.M.A.R.T. system in mind. Company goals should be Specific, Measurable, Attainable, Realistic, and Timely. Here's an example:
Bad goal: "Grow sales."
SMART goal: "Hit $100k in revenue by the end of the 1st quarter."
Also, keep in mind that the right sales goals are those at the edge of achievable and challenging. If a goal is too easy or too hard, your team's motivation will probably plummet.
For example, if you're a small business or startup that just reached $50k in revenue last year, shooting for $500k is a bit of a stretch, while $60k is probably too easy.
That said, you'll also want to determine specific metrics and KPIs in this step, including how they're currently performing, and how you plan to improve them.
Author's note: If you're using a tool like Close to manage your sales team and processes, you get a KPI dashboard that looks something like this—so your team can better align and track progress: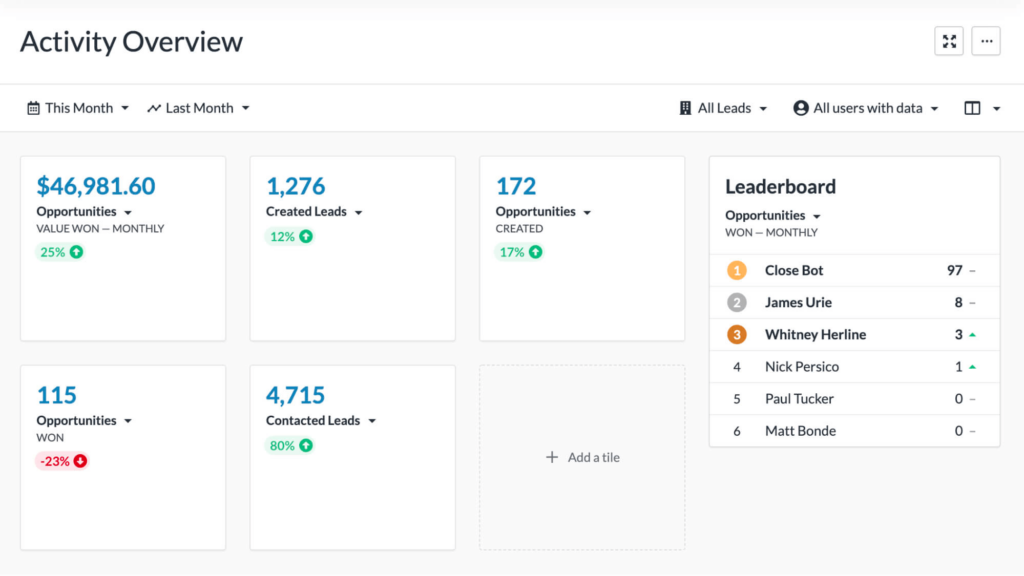 But remember this golden rule when choosing key performance indicators:
You don't need to track every sales KPI. You just need to track the right ones.
Here are ten benchmarks and KPIs worth tracking that are commonly used by sales teams:
Monthly sales growth
Calls and cold emails per rep (daily, weekly, monthly)
Sales opportunities created
Monthly onboarding and demo calls booked
Lead conversion rate
Sales by contact method
Average conversion time
Customer acquisition cost (CAC)
Customer lifetime value (LTV)
New and expansion monthly recurring revenue (MRR)
2. Find Your Target Customers' Needs
One of the best ways to find the needs of your target audience is to develop an ideal customer profile (ICP). An ICP is an example of the perfect customer for your business.
Normally used by B2B companies, this profile defines the characteristics of a company that would buy your product or service.
Here are some of the traits to look out for in them: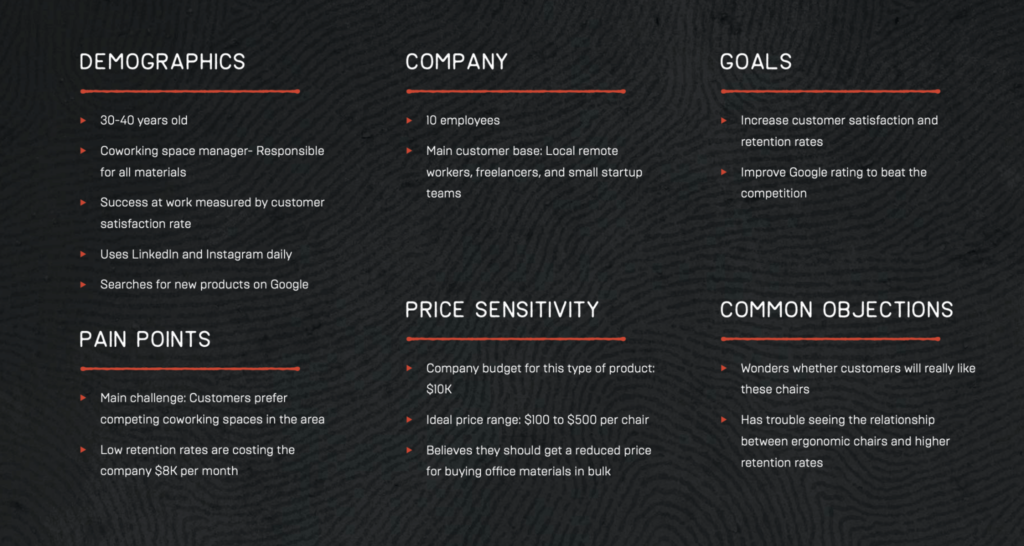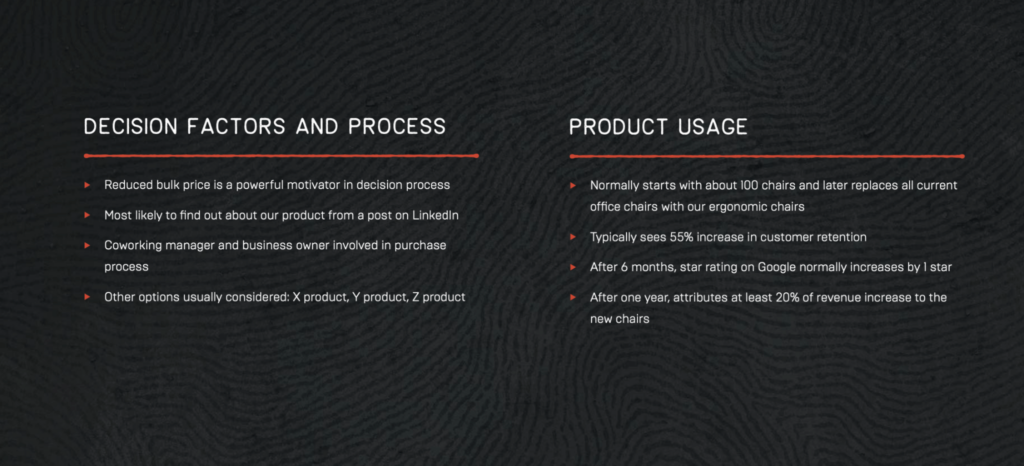 To get started, think of your top ten to twenty customers. These should be customers who say your solution is so valuable, it outweighs the cost.
Then, gather information about each customer and identify traits they have in common. Write a description of your ideal customer that includes data like what we've shared earlier:
General information about the company or customer, such as size, demographics, and industry
Typical budget and revenue
Location, if it's applicable to what you're selling
Main challenges and pain points the customer is looking to solve
Common objections that are raised during the sales process
Typical purchase process, including decision-makers
Timelines and deadlines to purchase
By identifying these common traits, you can better target the market that is best suited for your product and really hone in on their needs.
3. Define Your Value Proposition
Now that you know what your customers need, it's time to explain how your company meets that need. Enter: the value proposition.
A value proposition describes the specific value your company provides to your customers. It should focus on benefits, not features. And it should explain how you stand out from the crowd. For example:
What problem does your product solve? Is it a new product?
What does your product do for your customers?
How does your product stand out?
What makes you different from the competition?
One of the best ways to nail down your value proposition is to talk to actual customers or prospects. Ask them how they would describe your product to a colleague. How would they sell it to them if asked for a recommendation?
You can also look up reviews on websites like G2 and read what your customers are raving about online. Is there a common thread? What benefits do your customers keep bringing up, especially as it relates to the competition? Is there something your company is doing that others aren't?
4. Choose a Structure for Your Sales Team
Just as there isn't a one-size-fits-all solution to creating a sales plan, there isn't one right way to structure your sales force. What works best depends on your product, team, and sales processes. Here are three common sales team structures to choose from:
Island: Individual reps work through the sales process alone. This means they handle everything from cold calling and outreach to closing major deals.

Assembly line: Each sales rep is assigned a specialized role such as lead generation, SDR (qualifier), Account Executive (closer), or Customer Success (farmer).
Pods: Each sales rep is assigned a specialized role in a group that's responsible for the entire journey of specific customers.

No matter what structure you choose, determine which reps are available during what times of the year, their specialties and skills, and what they're responsible for in the sales process. It's also important to include information about the sales managers, other team members, and the incentives you offer your reps.
5. Create a Plan For Execution
At this point, you know what you want to get done. You know your goals, you know your customers, and you know how your sales team will be organized. Now it's time to come up with a specific plan of attack.
To do this, take a look at your overall goals and figure out how to create milestones. This involves breaking down that big number into smaller expectations with strict deadlines. Milestones should challenge and motivate your sales team, without being so difficult they kill morale.
Involve your sales team during this process. Learn what they do during the week to close deals. Ask how much they're currently doing, and how much bandwidth they have to do more. This will give you a real, frontline take on what your team can execute.
Then, create specific milestones with clear deadlines. For example, to achieve a sales goal of increasing revenue by 15% YOY, you might set the milestone of increasing your customer base by 20% at the end of Q1, or increasing sales by 50% for a specific product during Q3.
Finally, break these milestones down into action items. If you're trying to increase your customer base, for instance, your sales team will need to increase prospecting and lead generation activities. How will your team approach this? Assign specific tasks to team members with daily, weekly, or monthly targets.
Here's an example to show how your goals, milestones, and action items are related to each other:
Goal: Increase revenue by 15% YOY
Milestone: Increase customer base by 20% by the end of Q1
Action items: Each sales rep makes 10 new prospecting calls per week and spends 30 minutes qualifying leads
6. Evaluate Your Existing Sales Tools
In this step, take a look at your existing sales tools. Ask your team the following questions about each one:
How are we using this tool? What sales tactics does it help with?
Do we have another tool that does the same thing?
How much does this tool cost?
What's the learning curve with this tool in the short term?
How easy is it to onboard new team members?
Is there anything we wish this tool did better?
What's customer support like when we have issues?
Does this tool integrate easily with our other tools?
How does this tool make our lives easier?
How does this tool help us close more deals?
Where does it fit in the sales funnel?
Once you've answered these questions for all of your sales tools, decide if there are any you don't need in your stack anymore. Also, make note of any gaps in your capabilities or areas you feel could be improved with a better tool.
Then, list the resources you have available and how you plan to use them. For example, how much will you spend on your sales tools? Which CRM software or prospecting tools are your sales professionals lost without? Briefly explain each tool's value and why you've allocated resources towards it.
7. Build a List of Dream Clients
If you could close the deal with anyone you wanted, who would it be? Write it down. Then, go back to your ideal customer profile and find more companies that fit the bill.
Using this strategy is called target account sales or account-based selling. It's a sales strategy where every prospect is handpicked and matched to your ICP. This means you know their pain points, their competitors, and how you'll sell to them—long before you pick up the phone. 
Using the target account method will help you fill your pipeline with high-value leads that are a perfect fit for your product. It's also a great way to build confidence with your reps since they can do a lot of legwork before making a call.
8. Schedule Progress Checks
A sales plan is a living, breathing document that needs to adapt to the dynamic world around it. New features, new marketing campaigns, new team members—all of these things can change the game.
With that in mind, the last step in creating your sales plan is to set regular meetings (at least monthly) to review progress towards hitting your sales targets. At each meeting, plan to identify and solve any new issues and re-align activities across teams to adapt to real-world events and feedback.
That said, try to avoid moving the actual goalposts—even if you discover you've been overly optimistic or pessimistic in your forecasting. Instead, carefully document what needs updating so you're prepared when it comes time to make your next sales plan.
5 Best Practices for Creating a Profitable Sales Plan
Now that you know how to build your plan, here's a list of best practices to make sure you're successful.
1. Touch Base with Existing Customers
Existing customers can be a huge source of knowledge when building your sales plan. After all, they're using your product and can provide valuable feedback on what's working and what's not.
But knowledge isn't the only thing existing customers have to offer. They're also a goldmine for generating new leads. In fact, according to SaaStr founder Jason Lemkin, "At least 20% of your new customers should come from referrals and word of mouth."
If you're still in the early stages of business development, use your sales plan to show your team how to leverage their own network to get introductions to new prospects. If you're at a later stage, build a referral program for customers that refer new leads.
2. Get Input From Colleagues Outside of Sales
It's easy to get caught up in our little sales bubble and forget the outside world. But you'd be doing yourself and your company a disservice if you don't get input from people on the outside.
Getting a different point of view can open doors you didn't even realize were there. Or keep you from wasting time going down a road to nowhere.
So reach out to colleagues in other departments (i.e. marketing, tech support, human resources, etc.) Ask them to look over your sales plan and give you feedback. What have they heard from customers? Is there a marketing strategy that could work in tandem with your efforts? You may be surprised at what they have to offer.
3. Include Your Sales Team in the Planning Process
As we mentioned earlier, your sales reps can be super helpful during the planning process. They know your customers and they know the daily grind. So they usually have valuable insight in terms of realistic goal-setting, how customers may respond to certain strategies, and more.
Plus, including your sales team in the process is a great way to get buy-in. People are way more likely to get on board with a plan if they were involved in its creation. On the flip side, if you just drop a plan on your team without getting their input, you'll likely face some pushback.
So get your team involved early in the process. Schedule planning meetings and quick brainstorming sessions. Explain why the plan matters and why you want their participation.
4. Compare Plans with Strategic Partners
Strategic partners or stakeholders are usually other businesses that benefit in some way from your success. These can be suppliers, retailers, or companies with complimentary products or services (also known as Complementary Service Providers, or CSPs).
If you have a good working relationship, ask them to compare notes. You take a look at their sales plan and have them look at yours. After all, you're typically targeting the same type of customers.
Maybe they've tried something you're planning to implement and can give you feedback on how it went. Or maybe you're planning similar strategies and can piggyback off each other or refer leads.
5. Set Individual Goals for Your Sales Team
Finally, take your overall goals and break them down into individual goals for your sales team. Not only will this make your plan more actionable but it's a great opportunity for professional development if you take into account the differences in strengths, weaknesses, and skills among your salespeople.
For example, if someone on your team is making a lot of calls but not closing many deals, set an individual goal of upping their close rate. On the other hand, if someone's great at closing but doesn't do much outreach, give them the goal of contacting ten new prospects a month.
Create a Sales Plan That Drives Growth
Taking the time to create a solid, effective sales plan (or business plan) is always worth it. It gives you the roadmap you need to push through the inertia and stay on track to meet your goals.
We're here to help. Download our free Sales Success Kit and get access to 11 different templates, checklists, worksheets, and guides. All are action-oriented and easy to use, so you can have your best sales year yet.