The potency of LinkedIn for finding the leads you want is not disputable. You're either:
A salesperson who treats it like a bulk messaging platform and keeps spamming your prospects
A professional who uses it to nurture relationships that lead to businesses over time
The question is: which one are you?
If you understand that relationship building is the key to finding good leads on LinkedIn and want to know how to go about it, you've come to the right place.
In this article, we'll share everything you need to know about generating leads from LinkedIn, as well as examples and hacks from experts who have done it.
Why LinkedIn Is the Lead Gen Beast You've Been Searching For
Let's start with some cold, hard facts. My earlier statement about LinkedIn being the undisputable king of B2B lead generation might sound unsubstantiated to you. But have you seen these stats?
The quality of leads you'll find on LinkedIn is off the charts, especially if your business is in sectors like:
Information Technology & Services
Computer Software
Financial Services
Higher Education
Marketing & Advertising
The sectors listed above are the majority of LinkedIn users.
These industries represent the many business models that rely most heavily on the Internet. No wonder LinkedIn is jam-packed with professionals in those industries.
Every sector can harness the power of LinkedIn, but these tend to hit the jackpot more often.
How to Optimize Your LinkedIn Profile for Lead Gen
Let's get our hands dirty and jump into the actionable details of how to crank up your LinkedIn game.
We are starting with profile optimization because a poorly set up account is a deal breaker. Think about it: if you found a prospect with a scrappy profile, would you waste your energy reaching out? It works the same way in reverse.
Nothing you have done until that moment a prospect finds your profile will matter if a lead questions your credibility due to your subpar profile. That's why it's crucial to set up your LinkedIn account for the right opportunity.
Look Sharp: Professional Profile Picture and Cover Image
First things first: You've got to look the part. Your profile picture is your first impression; believe me, people judge a book by its cover. LinkedIn themselves have found that a profile with a professional picture gets up to 21 times more views and is 14 times more likely to be viewed. That's a whole lot of eyeballs on you.
Your cover image is another piece of prime real estate. It needs to scream your professional persona and tell people what you're all about. Don't waste it.
It's All about You: Crafting an Impactful Profile Summary
Next up is your profile summary. This section is your chance to wow people with your professional prowess.
The first few lines are critical, as that's what people see when they land on your profile. You must hook them in and make them want to read more.
The best way to do this is to start by sharing your accomplishments rather than your potential. Since anyone can claim they are capable of doing something, make yourself stand out by showing you've done it. Then segue into telling them how you can specifically help your target audience.
For this, I can't think of a better LinkedIn profile summary than that of Antonio Gabric, the outreach manager at Hunter.io.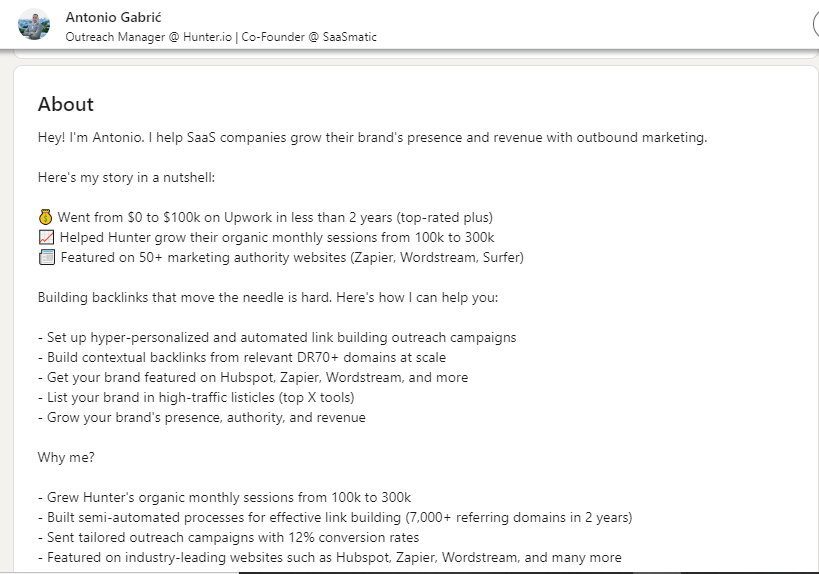 Not only was Antonio brief, but he also got right to the point.
He rapidly summarized his experiences before moving on to what he could do for you.
That's how you pull a lead into your pipeline through your profile summary.
Credentials, Please: Showcasing Your Skills, Endorsements, and Recommendations
Your LinkedIn profile is your professional resume on social media. It's where you can strut your stuff and show people what you can do. LinkedIn lets you list your skills and have others endorse them. These endorsements give you credibility, and we all love a bit of social proof.
Similarly, recommendations are like references on steroids. Reach out to your connections—colleagues, bosses, and clients—and ask them to write you a recommendation. This provides further proof of your awesomeness.
A list of work experience, propped up by glossy recommendations, indicates you're a highly sought-after professional. That way, you make it easy for your leads to decide they want to try you out.
If you don't have a lot of achievements and skills yet, don't fret. List anything you've done, i.e., school politics, volunteering, internship programs, etc., and that should suffice for the time being. Be sure to update the section regularly.
Your Corporate Persona: Creating a Compelling Company Page
Creating an engaging company page is like putting up a neon sign saying, "We're open for business!" An optimized company page can attract more followers and generate more leads.
An excellent LinkedIn company page has many different components, but from what I've seen, the About section is the most important.
This is vital, as it's your one opportunity to persuade visitors. The twist is: your About section doesn't need to go the extra mile to achieve that. Just be clear and concise enough to convince visitors to learn more about you.
IMPACT, a marketing and sales training company, does this so well: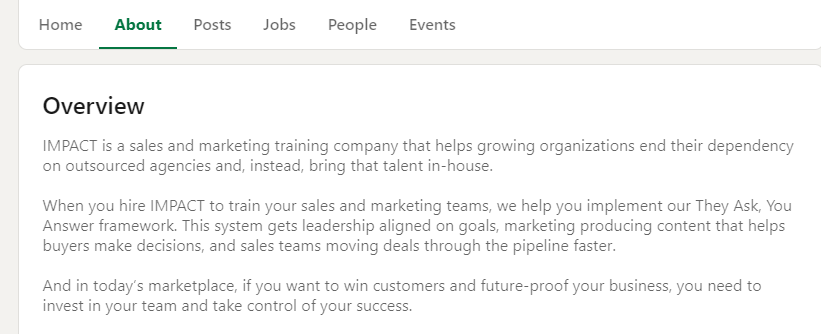 With information as concise as it is clear, you'll want to click on their website link and learn more about them. In other words, you're now a lead. See you on the other side of the pipeline!
Building Your Professional Network: Tips to Build Trust with Your Target Audience
LinkedIn is about more than just connecting with everyone and their dog. It's about cultivating a social network of meaningful, potentially profitable relationships. It's about trust.
Below are our recommendations on how to do that.
Choose Your Connections Wisely
On LinkedIn, it's quality over quantity. Connecting with everyone under the sun will get you nowhere.
Instead, you must identify potential leads, engage with them, and build meaningful connections.
To do this successfully, consider three things:
Relevance: When seeking to connect with someone on the platform, it is essential to consider the relevance of their profile to your professional goals and interests.
Mutual benefit: Mutual benefits on LinkedIn can come in many forms. The first—and most obvious—is whether this individual is a potential lead. Then there are other considerations, such as possible collaborations, knowledge sharing, and partnerships.
Ideal customer profile: While "relevance" says pretty much the same thing, building a LinkedIn community of mainly your ideal customer profile will also get you far faster.
Engage, Engage, Engage!
Once you've made a connection, don't just let it sit there gathering digital dust. Start a conversation, share insights, comment on their posts, and keep the relationship alive.
The idea is to familiarize your connections with your brand, the value you bring, and how you can help them.
Victor Ijidola, the founder of Premium Content Shop, has benefited immensely from engaging his connections on LinkedIn.
"One of the best ways sales reps can use LinkedIn (and social media in general) to drive inbound leads is by:
Connecting with potential customers
Writing posts that motivate them to reach out
Leaving comments on their posts that help to build relationships with them."
He continued, "It's a three-pronged approach that almost always works for lead generation and building stronger relationships with potential customers."
Citing an example of how this works, Victor told me of his engagement with the Product School's director of content, Charleen Parkes.
Parkes had written a LinkedIn post about how she focuses on one word or phrase to guide herself through the year rather than a list of new year's resolutions. "I showed up in the comments and wrote about the part of the post that stood out to me the most," Victor said.
Charleen responded, saying, "On that note, I'm looking for a content marketing consultant…"
Such is the power of LinkedIn engagement. Don't just build the connection and go silent. Engage your connections on all fronts.
Give Value Before You Take: Delivering High-value Content
Providing high-value content is one of the best ways to build trust on LinkedIn. This is content that educates, inspires, or entertains your connections. LinkedIn currently allows you to post articles, videos, and more.
Irrespective of the format, get creative, provide value, and watch your influence grow.
This step once landed Precious Oboidhe, a freelance content strategist, a $1,200 gig.
He got the gig after sharing a post on LinkedIn on social selling, which had over 20,000 views.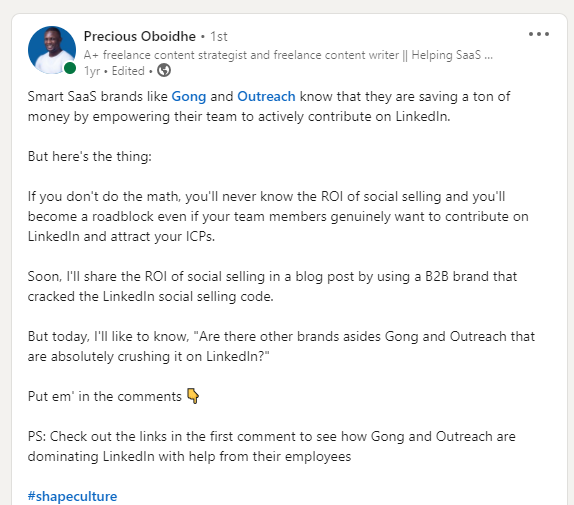 In another post on LinkedIn, he shared a summary of how he did it:
Open with a strong lede and tag the protagonist
Use powerful transition words
Highlight the challenge
Tease the solution
Ask for engagement
Share resources
If you deliver enough value on LinkedIn, leads will even come to you themselves.
Dive into the Deep End: Engaging in LinkedIn Groups
LinkedIn groups are like exclusive networking events. By joining and participating in relevant groups, you can connect with like-minded professionals and potential leads. Share insights, start discussions, and make yourself known.
Here are some rules to observe when engaging in LinkedIn groups:
Choose relevant groups: This step should be obvious. If you're a marketer, you have no business being in the engineering group except if they're your target market. In that case, you'd be a marketer for engineers. Bottom line: relevancy matters. A lot.
Read and understand group guidelines: Don't disregard group guidelines.
Listen and observe: Monitor the LinkedIn group occasionally to see when you can chime in to conversations. The key to success is to wait for the right time to engage.
Provide value through content: If you're in a LinkedIn group relevant to your business, always show you know how to solve their problems. Demonstrate this by sharing practical advice and relevant content they can hardly find elsewhere.
Avoid overt self-promotion: Avoid being a jerk by always promoting your product or service. Give as much help as possible. That's how you build trust and credibility.
Network and connect: If someone in the group engages your content and you see they're a potential customer, don't hesitate to follow up outside the group, send them personalized messages, and build a real connection with them afterward.
Make an Event of It: Organizing and Participating in LinkedIn Events
LinkedIn events are another fantastic way to generate leads. Whether you're hosting a webinar, a Q&A session, or a virtual networking event, LinkedIn Events lets you attract, engage, and convert potential leads.
Here are the steps to making LinkedIn events work for you:
Define your event objective: Clearly define the goal of your event. Is it to generate leads, build brand awareness, promote a product/service, or establish thought leadership? Knowing your goal will help shape your event strategy and determine the metrics you'll use to measure success.
Identify your target audience: Understand who you want to reach with your event. Define their characteristics, interests, and pain points. This information will help tailor your content to resonate with your target audience.
Choose a compelling event theme: Select a theme that aligns with your objectives and audience. The theme should be relevant, engaging, and attractive to your target audience. It can be a trending industry topic, a specific area of expertise, or a current challenge you aim to address.
Outline event sessions and topics: Determine the sessions and topics that will be covered during your event. Ensure the topics are valuable, informative, and directly related to your event theme.
Secure expert speakers and contributors: Identify and invite industry experts, thought leaders, or influencers to speak or contribute to your event. Aim for a diverse range of perspectives and expertise to provide attendees with valuable insights and diverse viewpoints. Having thought leaders on board is another way to get attention to your events.
Leverage LinkedIn Event features: LinkedIn event features allow you to boost engagement and lead generation. They include live chat, Q&A sessions, polls, or surveys to encourage attendee interaction and gather valuable insights. You can also leverage the "Register" or "RSVP" button to collect attendee information for lead capture.
Engage with attendees: During the event, actively engage with attendees through live chats, Q&A sessions, or direct messages. Respond to questions, provide additional resources or insights, and foster meaningful conversations. This engagement helps build rapport, establishes your expertise, and increases the likelihood of generating leads.
Pro Tools: Turbocharging Your LinkedIn Lead Gen
LinkedIn offers various automation tools to boost your lead generation efforts so you can get the most out of the social media platform.
LinkedIn Ads and Sales Navigator can help you reach a wider audience, identify potential leads, and convert them into customers. Plus, third-party tools like Lusha and LinkMatch that can help you search for leads and import them directly into your CRM. Sweet!
Let's look at how you can utilize that for your business.
Leveraging LinkedIn Ads for Lead Generation
Organic social selling strategies take time.
If you want to move faster and get immediate results, LinkedIn Ads gives you that advantage.
It offers a way to reach your target audience more effectively and faster. It also has the second-highest CTR after Facebook, although some experts think it's the highest.
Here is a step-by-step how to use LinkedIn Ads for lead generation:
Open your Linkedin Campaign Manager page
Tap on "Create a Campaign" on the top, left-hand side
Choose "Sponsored Content" as your ad type
Select "Collect leads using LinkedIn Lead Gen Forms" as your ad objective
Choose your ad format, e.g., image, link, carousel, or video
Upload your ad content
Choose your call to action (CTA). This could be "Sign up," "Subscribe," "Register," and "Download"
Determine your target audience through filters like industry, job title, and location (Focus on niches in your target audience so you can create more targeted ads)
Set your bid amount to a daily budget or bid (you'll pay per click)
Launch your ad
To make your LinkedIn Ads more effective, here are some steps you should take:
Define your target audience
Choose the right ad format
Write powerful ad copy
Use engaging visuals
Optimize your landing page
Use LinkedIn lead generation form
A/B test
Use LinkedIn Retargeting
Use LinkedIn analytics to track conversions.
Using Sales Navigator for Advanced Lead Generation
LinkedIn Sales Navigator is a premium subscription-based tool with advanced search capabilities for finding prospects, connecting with them, and building relationships.
Consider it an automation of your entire prospecting process, including finding your ideal customers, accessing needed information about them on the go, building a lead list, automating your outreach, and getting alerts about their latest activities on LinkedIn.
In addition to all that, you can integrate it with your CRM to keep your data current.
There are five ways to using LinkedIn Sales Navigator to boost lead generation, namely:
Using advanced search filters to find accounts
Building a lead list
Connecting with them and sending them emails
Following up
Exporting your leads into a CSV
If you want to make your search much more precise, one way to do this is to use LinkedIn's boolean search feature.
It helps you narrow down your search parameters by combining keywords with operators like AND, OR, and NOT during your search.
LinkedIn Lead Generation Tools You Should Consider
While LinkedIn has enough features to help in your quest for fast, relevant lead generation, there is a catch.
You must export your lead list into a CSV file with a third-party tool. This can make it hard to keep track of your campaign and automate specific tasks.
But with third-party LinkedIn lead generation tools, you'll get that feature and more. Below are our top recommendations.
Lusha is an intent data platform that combines high-quality lead data with behavioral signals to help you find qualified leads at the right time.
In addition to integrating with your CRM, its Chrome extension enables you to instantly access contact and company information on LinkedIn, which is how it fits into your LinkedIn lead generation strategy. Additionally, it allows you to enrich prospect data on any LinkedIn profile page.
You can use LinkMatch to find leads on LinkedIn and import the list into your CRM. It is integrated with Close, and the two provide unequaled data quality. Additionally, it enables you to save LinkedIn profiles directly into your CRM and sends you timely notifications whenever a LinkedIn profile is updated.
Apollo.io is a sales intelligence platform for outbound sales teams. By giving you precise, current information on millions of profiles and accounts, it aids in streamlining your outreach efforts. And when you browse through profiles on LinkedIn, it helps you gather verified email addresses and phone numbers. It also notifies you when prospects open your email.
Crunching the Numbers: Measuring Success on LinkedIn
LinkedIn provides a wealth of analytics that can help you gauge the success of your lead generation campaigns. Here is how that works.
Using LinkedIn Analytics
LinkedIn's built-in analytics tools help you measure your profile's performance, content, and advertising efforts. It's available to all page admins and users and provides a comprehensive overview of your page's performance.
Here are some of the types of LinkedIn's built-in analytics and how they can help you:
Profile analytics: This lets you explore metrics such as profile views, post views, search appearances, and engagement levels.
Post analytics: LinkedIn provides analytics for your published posts, articles, and documents where you can check the number of impressions and engagement your posts received and the demographics of the people you reached.
Page analytics: If you manage a company's LinkedIn Page, you can access analytics specific to your page's performance, including page views, followers, visitors, employee advocacy, updates, leads, post performance, engagement levels, etc.
Ad campaign analytics: If you run LinkedIn advertising campaigns, you can access campaign-specific analytics to optimize your campaigns, allocate budgets effectively, and refine your targeting strategies.
By looking into these metrics, you'll be able to identify your top performing content, refine your messaging and targeting, optimize ad campaigns, analyze conversion metrics, and benchmark against industry peers.
The idea is to figure out what you're getting right or wrong so that you can iterate and optimize accordingly.
Key Metrics to Monitor
Once you take all the steps above, you also want to know whether they're working. Track the following metrics to understand how your LinkedIn lead generation is performing:
Profile Views: Monitor the number of views your LinkedIn profile receives to gauge the visibility and reach of your profile.
Connection Requests: Keep an eye on the number of connection requests you receive. A high number of relevant connection requests indicates a successful lead-generation strategy.
InMail Response Rate: Track the response rate of your InMail to understand how well your messaging resonates with your target audience.
Click-Through Rates (CTR): Check your CTR and conversion rate to see the number of new leads you generate through your lead generation efforts.
Engagement Metrics: Engagement metrics, including likes, comments, and shares on your LinkedIn posts, are indicative of the effectiveness of your messaging and its ability to resonate with your audience.
Lead Quality: Assess the quality of the leads generated from LinkedIn by looking at the percentage of leads that convert to customers, the average deal size, and the customer lifetime value (CLTV).
Revenue Attribution: This metric clearly explains the return on investment (ROI) from your LinkedIn lead generation efforts and helps you allocate resources effectively.
Generate Leads from LinkedIn Using Our Tried and Trusted Methods
Remember, it's not about who has the most connections, but who has the best relationships. So get out there, optimize your profile, engage with your connections, and start generating those leads. You've got this!