What comes to mind when you hear the term "social selling"?
For many sellers, it's an intimidating concept—one involving the awkward activity of "social networking" or reaching out to strangers, hoping to sell them a product or service.
And while it does involve active outreach, social selling is far from the same old thing with a new name.
Specifically, it isn't the same as:
Cold outreach, where you send unsolicited emails to strangers with the hopes of selling them a product
Traditional networking, where you meet up with people in person and try so hard to impress them and build relationships
So what exactly is social selling?
Good question. In this article, we'll explain what social selling is, why it's important for modern salespeople to be "social sellers," and how to get started.
What is Social Selling?
At its core, social selling is simply using social media platforms to build relationships with potential customers and leads.
Instead of cold-calling or emailing people, you're essentially "befriending" them and creating relationships over digital channels.
For instance, you might:
Identify a potential customer on LinkedIn or Twitter
Like their posts and leave comments
Wait for them to reply, and then
Reach out to them with a personalized direct message (DM)
Your DM could be a targeted sales pitch for a need you've identified with their business, or maybe even an invitation to join you for a virtual coffee date.
Either way, the goal is to create and nurture relationships with potential customers, with the goal of selling them a product or service they need.
5 Unique Benefits of Social Selling
Now let's identify the "why" behind social selling. Here are a few benefits of utilizing this technique:
1. Easier Access To Decision-Makers
There aren't so many barriers between you and the decision-makers anymore—they're more visible than ever on social media.
Between sharing content, commenting, and "DMing," you can build a certain level of relationship with decision-makers so they can be ready to consider your offer when you eventually reach out.
And there are lots of marketers and salespeople that have reported success stories from using social selling to connect with decision-makers and drive sales.
For example, Chris Walker from Refine Labs recently shared how 3 C-Level execs DM'd him on LinkedIn to explore working with his company after he published a piece of content that didn't even get as much engagement as his previous posts.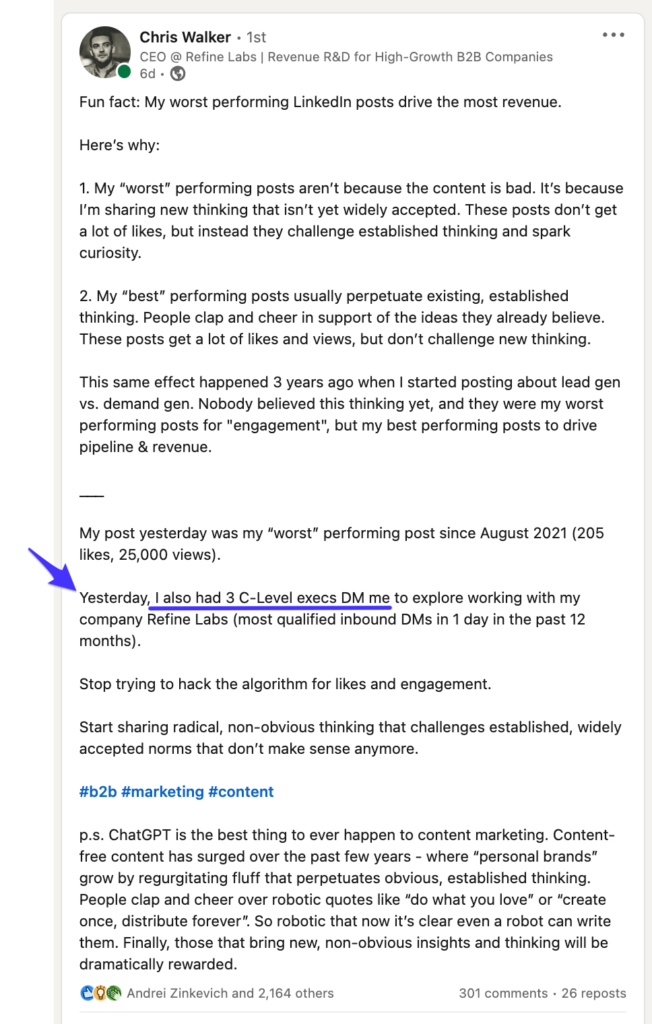 And it's not just Chris; marketing leader Nick Bennett recently shared he drove almost $2 million inbound pipeline for his previous company Alyce via his posts on LinkedIn.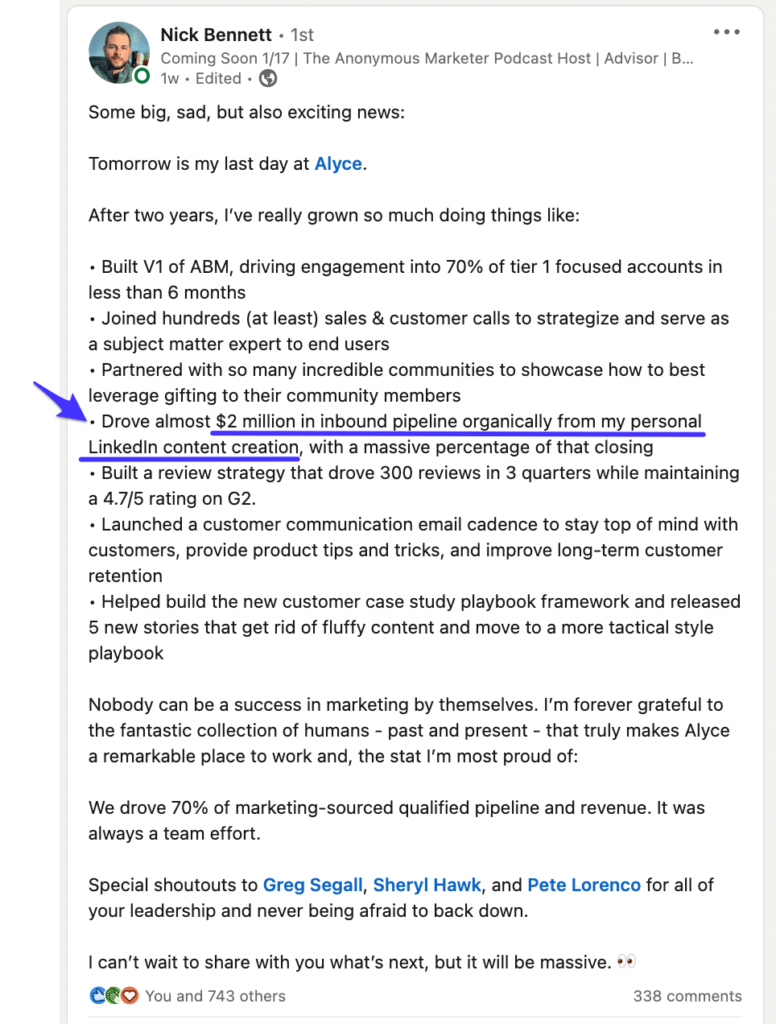 I can go on and on; stories like these have become quite popular lately on social media, where marketers, founders, and salespeople keep sharing how they're connecting with buyers and closing deals using social selling techniques.
2. Builds Trust Faster & Shortens Sales Cycles
Data from an Accenture study found that 54% of companies affected by decreased trust saw their revenues dip to the tune of at least US$180B.
In simple English, trust is a major factor in sales success. And social selling often makes it easier to build that trust—maybe even more effective than traditional sales tactics—because:
It's a more targeted approach than a spray-and-pray one
It's conversational and consultative in its approach
Buyers can easily verify your background, skills, and expertise
It allows you to create relationships with prospects and develop rapport with them
All of these reduce friction in sales conversations and often speed up the buying process; instead of trying to explain what you offer, you're building relationships with potential clients and presenting yourself as an expert in the industry who has a solution they need. There aren't a lot of sales techniques that let you do all that at once.
3. Reduced Cost Per Lead
Social selling is often more cost-effective than traditional marketing methods, and it's easier to measure too.
For example, with social selling, you can have your sales team join relevant LinkedIn groups or other online communities or platforms related to your target market, and start engaging with potential customers there.
This is known as employee advocacy, and will hardly cost any extra than the salaries/commissions you're paying them. (Plus, many salespeople are already looking to build a personal brand for their careers, so they typically won't need much convincing to do it).
But with an older sales tactic like cold calling, you'd have to pay additional costs for list-buying, list cleaning, etc., and you'd often end up with a lot of wasted leads.
That's not to say older sales techniques are bad or ineffective; they're not, and many of them still work.
But social selling often delivers a lower cost per lead/sale because of its targeted and more personalized approach. You can use them alongside legacy sales methods or use them to replace the more expensive ones.
4. Build Relationships Beyond Sales
One of the most nerve-racking parts of sales is the fear of rejection.
Whether you're a pro or a newbie, rejections are hard pills to swallow. It's easy to get discouraged when prospects don't seem interested in your offer.
But social selling makes things a lot easier because it's focused on relationships and authentic conversations—not just pushing sales.
You're building relationships with prospects in a more casual, relaxed, and conversational way and creating rapport before trying to make a sale.
And even after converting them, you get to stay in touch with them and build better relationships that could lead to more sales down the line.
5. Get High-Quality Market Insights
The nature of social selling is one that gives you access to lots of customer insights (read: social listening).
Let's say you've identified a hot lead on LinkedIn.
You start engaging with their content, and maybe they, too, comment on your post from time to time. Before long, you both know each other, so you've now built a level of trust with them.
You finally decide to make a move and offer them a product or service that could help them solve a problem.
But as it'd turn out, they didn't need your product. You probably thought they weren't already using a solution like yours or that they were looking for a better one, but it turns out none of this was actually the case.
It's often easy to conclude nothing good can come out of this, but it's an opportunity to learn more about what your prospects need and why they didn't take your offer.
For instance, in this case, you now know not to look out for customers who are already using a similar solution, so you don't keep wasting time on them. This helps you focus your efforts and resources on leads that are more likely to turn into conversions.
Using social prospecting tools such as LinkedIn Sales Navigator can help your team speed up this process even more.
Who Should Use Social Selling?
While social selling is beneficial to almost every type of business, there are certain types of companies that stand to benefit the most from it. These include:
1. High-Ticket B2B Salespeople
B2B services and products are often expensive and difficult to sell.
So the salespeople that sell them usually need to spend a lot of time and effort to nurture prospects and build trust before they can make a deal.
For instance, if you're a sales rep for a B2B SaaS business like Twilio, you're selling an enterprise-level communication solution. Your buyers are typically no-nonsense, high-level decision-makers who get more pitches than they can handle because of their job titles, the size of their companies, and their influence over high-ticket purchase decisions.
Reaching these people via traditional methods is often an uphill battle; because they are super busy people, they usually don't have time to pick up the phone or attend a sales meeting.
But social sales makes the selling process a lot easier.
These buyers are on industry groups and social platforms day in, day out, having normal conversations in places where they're comfortable enough to talk to almost anyone.
For instance, here's a portfolio manager at L'Oreal commenting and interacting with people on LinkedIn: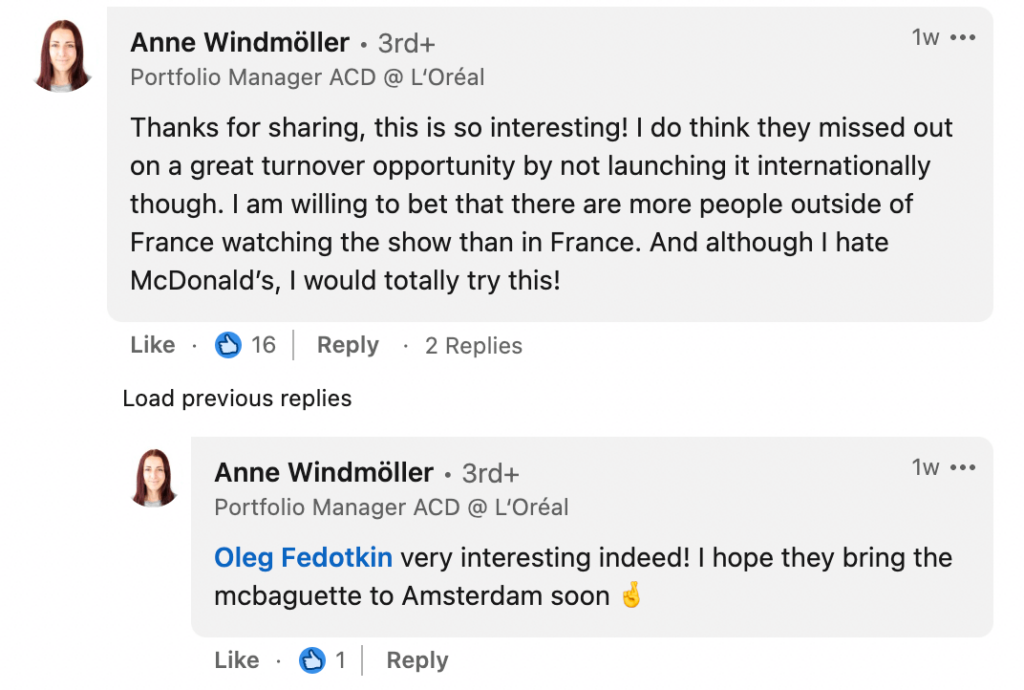 And here's a head of marketing at Apple doing the same thing: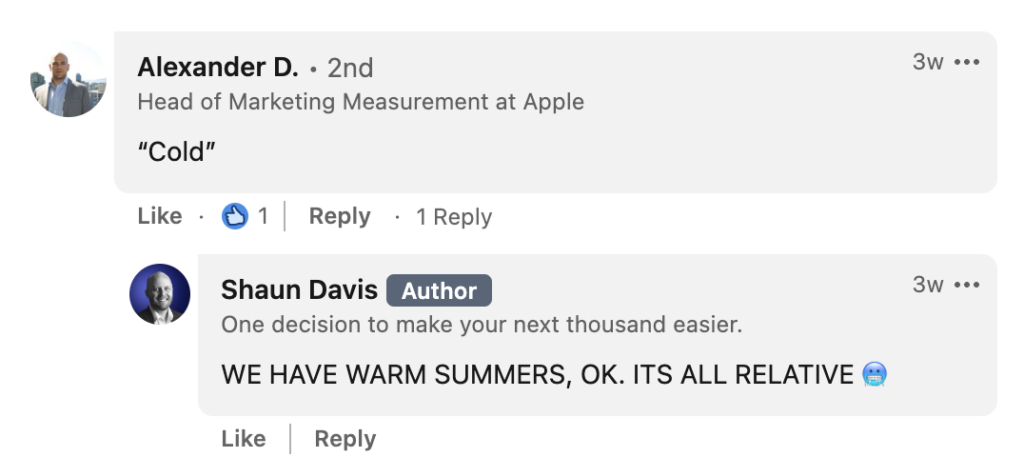 These examples show the possibility of using social selling to interact with high-level executives who can easily become customers.
As a B2B salesperson, social selling presents sales opportunities where you can engage high-ticket buyers no matter how complex or expensive your product is. (Although, how you do it makes all the difference, and we'll get to that in a bit).
2. Consultants, Agencies, & Freelancers
If you're a consultant, agency, or freelancer, you already know how hard it is to get high-paying clients.
If you're not relying on social selling or other inbound marketing activities, your lead generation and sales strategy probably look something like this:
Find potential customers
Find their emails or phone numbers
Send cold emails or make cold calls
Close deals
It's a grind. And while it works, it's not the only way to find and land clients. Social selling is another great option that comes with several advantages.
For starters, you don't have to worry about finding leads and their contact information. You can just find them on social media and start engaging with them right away—without coming off as overly aggressive or sales-y.
And then getting the opportunity to identify common interests and build a relationship with them based on those interests is invaluable. It helps you further communicate with potential clients in a way that doesn't feel overly promotional or self-serving, but genuine.
3. Founders and CEOs
Sometimes, founders and CEOs are the best salespeople—mostly because they often understand the story behind their products better than anyone else.
For instance, let's say you're a founder selling an AI-driven project management tool.
Your target customers are project managers at large companies. So you go to platforms like LinkedIn and Twitter, connect with them, and start engaging with them.
You could:
Tell stories about the challenge(s) that led you to build the product
Share your experiences about when you first started out in the industry
Start sharing success stories customers have with your product
Comment on posts or tweets and participate in relevant buyer-related conversations, and so on
Essentially, social selling helps founders and CEOs position themselves as thought leaders and industry experts—which helps build trust with prospects and position their product/service as a prime solution for their needs and pain points.
5 Tips to Close More Deals With Social Selling
Now, let's go over a few tips and effective social selling best practices to engage buyers and close more deals.
1. Identify the Social Media Networks Your Buyers Hang Around
New social platforms pop up all the time.
But you need to be aware of which ones your buyers are using the most so you can focus on those.
For instance, if you're selling to marketing managers and CMOs, you'll usually find they use LinkedIn and Twitter more than Instagram or TikTok.
And even if they're on those other platforms, the targeting features there are usually sub-par. For instance, you're not able to target or connect with people by their job titles on Facebook and Instagram—like you can on LinkedIn and Twitter.
2. Create a Social Selling Strategy for Each Network
Your strategy is the bedrock of social selling success.
Without it, you'd typically be running around with no real direction. So, take the time to create a strategy for each network you're on.
What are your goals? What platforms are you going to use? How are you going to find and engage with your target buyers?
For instance, let's say you're a director of sales at Dropbox, and you want your team to use social selling to find enterprise prospects on LinkedIn and Twitter.
Your strategy could look something like this for LinkedIn:
Identify target accounts
Send personalized connection requests to them
Once they connect, hit the notification bell on their profiles, so you get alerts when they post content
Leave valuable comments on their posts
Once a relationship has been built over X weeks, send a personalized message and ask them about how they're doing XYZ
Make your move and pitch—in a way that's relevant to the conversation
Follow up, and so on
Your social selling strategy should spell out all of the above and any other tactical activities you want your team to do to drive results. Also, include social selling tools and templates that'll help them along the way.
3. Avoid Overselling and Underselling
One of the major temptations with social sales is overselling and underselling.
Overselling means pushing your product or service too hard in a conversation, and underselling means not pushing it enough.
Both of these can thwart your chances with buyers and sales.
If you undersell, you could engage with buyers for months, and they won't even know what you're selling.
And if you oversell, buyers can get turned off and immediately disengage with you because they feel you're all about ads and sales.
What you want to do is look for a sweet spot between the two.
For instance, you could decide to only pitch prospects who you've been engaging with for a minimum of 4 weeks. And even when you do pitch them, you'll be starting with a question that'll lead to an answer that'd tell you whether to pitch or not.
For example, if you're trying to sell them a CRM product and somewhere along your conversation, they mention how much their current CRM solution is holding them back, you could then ask them if they're open to hearing more about what you have. That could get the ball rolling toward a potential sale.
That's one example of a sweet spot between overselling and underselling. In the end, you want to be selling your product/service, but in a way that's more about helping buyers decide whether it's a good fit for them or not.
4. Train Your Sales Team to Stick to Your Strategy
For sales teams, there's a chance sticking to a strategy can become a challenge because every team member has a mind of their own.
So it's not enough to create a strategy once and expect everyone to follow it.
You'll need to set up regular training sessions and have an ongoing process to make sure everyone is following the same strategy.
For instance, you can have weekly training sessions where you:
Review strategies and provide examples of how to apply them
Go over best practices on how to engage with buyers
Create an environment where everyone can freely ask questions and provide input
Have team members share wins and lessons learned
On top of that, you can also monitor performance, review data, and adjust strategies as needed—which leads to my next point.
5. Monitor Performance and See Where to Improve Results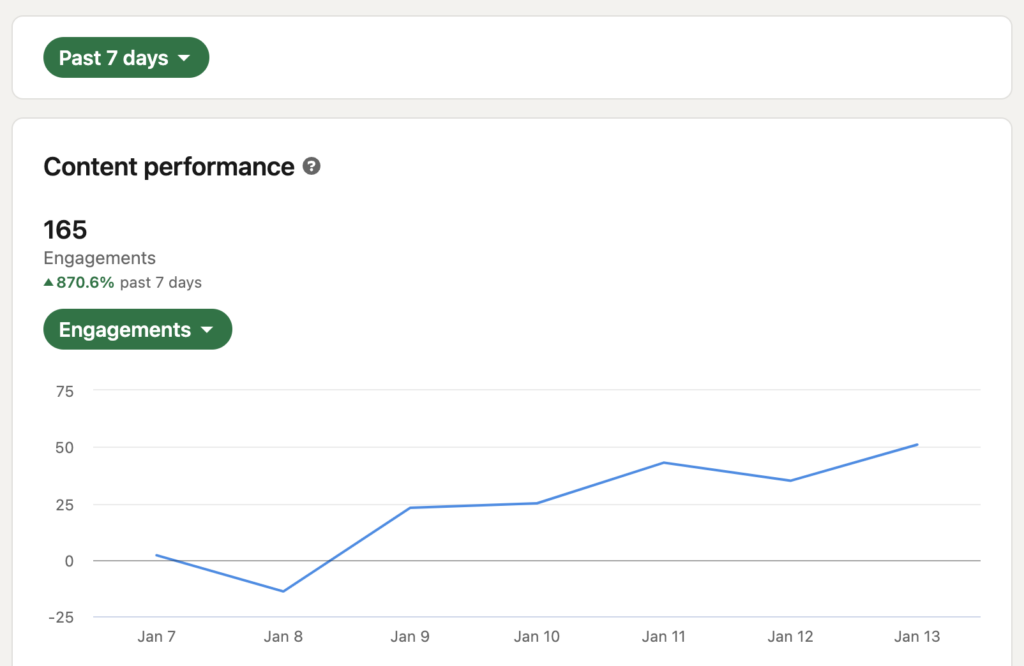 At this point, you and/or your team are already well-equipped with the right strategy and tactics to get buyers.
But you also need to measure the performance of your social selling activities.
Important metrics to track here include:
Number of relevant connections made
The amount of engagement coming from potential customers
Number of new leads generated
Sales conversion rate
Average deal size
Overall return on investment (ROI)
These are some of the metrics you can use to identify tactics that are working and worth doubling down on, and which ones aren't performing as expected.
You can also use this data to adjust your strategy and tactics if needed.
For example, if you find that one bottleneck your team is experiencing is difficulty getting responses from engaged buyers, you can then train your team to use a more personalized approach when messaging buyers.
Or, if you find one sales rep performing way better than the others, you can ask that rep to share their experience and strategies with the rest of your team.
By monitoring performance and analyzing the results, you can continuously optimize and improve your social selling efforts.
Social Selling FAQs
Let's finish off with some of the most common questions related to social selling:
What Are The Best Social Media Platforms for Social Selling?
It depends on your target audience, but the most popular social media platforms for social selling—especially if you're selling to B2B buyers—are LinkedIn, Twitter, and Facebook. Those are usually where most of your buyers hang out, so they're a great place to start.
How Long Does It take To See Results from Social Selling?
It really depends on factors like whether or not people you're engaging with fit your ideal customer profile, how consistent your team is in engaging with them, how effective your outreach strategies are, the size of your target audience, the level of competition you're dealing with, your product awareness level, and so on.
But generally, you should start seeing results within a couple of months.
What's Social Selling Index?
The Social Selling Index (SSI) is a score that measures how well you're using social media to interact and engage with buyers on LinkedIn. And it comprises four components that LinkedIn uses to score your performance: (1) establishing a professional brand, (2) finding the right people, (3) engaging with insights, and (4) building relationships.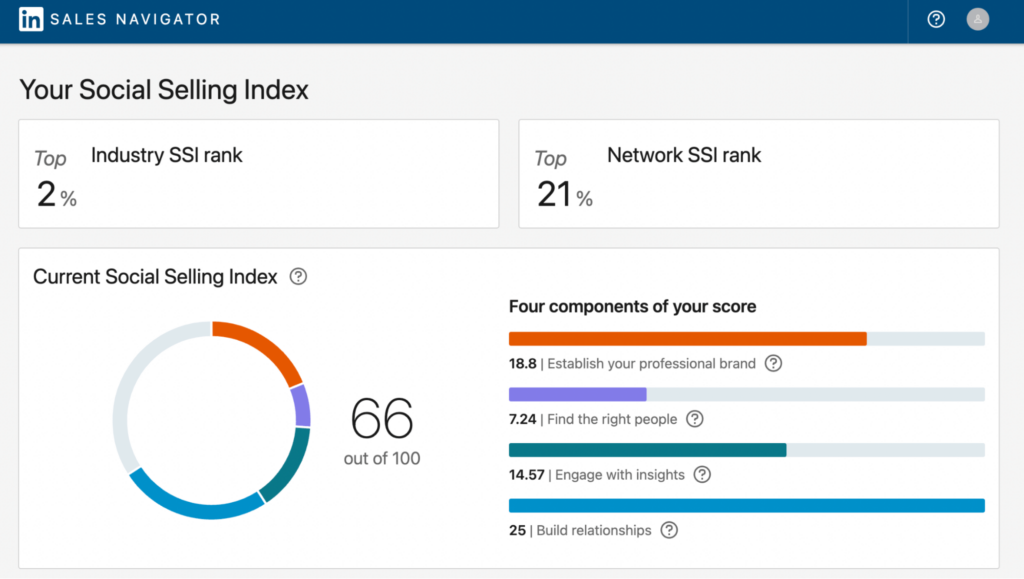 How Can I Increase My SSI Score?
To increase your SSI score, you can focus on improving the four components mentioned above—like creating an optimized LinkedIn profile, engaging with other members on LinkedIn, sharing relevant content and insights, and messaging buyers directly on the platform.
What Are the Most Important Metrics to Track with Social Selling?
The most important metrics to track with social selling are leads or new business generated, engagement rate from potential customers, sales conversion rate, average deal size, and overall return on investment (ROI).
These metrics will help you measure the success of your social selling efforts and give you an idea of what strategies work and which ones don't.
Wrapping Up
Social selling is a powerful tool to engage with potential buyers, generate leads, and drive sales.
But there are right and wrong ways to do it. Thankfully, in this guide, we have covered the best strategies and tactics that will help you get started on the right foot. Good luck!