Many (if not most) lead generation ideas and strategies revolve around eBooks.
From white papers and research reports to PDFs and buyer's guides, these digital marketing resources are often used as lead magnets to capture the attention of potential customers and encourage them to give you their contact information.
And then you'd use those contact details to send further emails and nurture the leads through your sales funnel.
But hey, it's 2023 now; there are many other proven alternative methods to generate leads for your business that don't involve creating eBooks.
Before we go into those ideas and strategies, let's talk about why you shouldn't rely solely on eBooks for lead generation.
Why is eBook Not A Reliable Lead Generation Strategy Anymore?
There are three key reasons eBook-led lead generation isn't as effective as it used to be:
"eBook Fatigue" is Real
The internet is already full of eBooks trying to get people's attention, so it's often difficult to stand out from the crowd. As a result, some business owners and B2B marketers find their eBooks are no longer generating the leads they used to. They're great at driving email content subscribers, but don't do so much with sales leads.
On top of that, the hoops prospects have to jump through to either sign up for the eBook or download and gain access to its content can be a turnoff.
Results Are Often Not Worth The Efforts
More than other lead generation tools, like blog content or webinars, creating an eBook and the email marketing nurturing sequences that follow can take a lot of time and money.
And when you compare all these resources to the quality of leads you're generating, the return on investment might not be so good.
The research alone for your topic will likely take days (or even weeks), and then you'll need to spend time:
Writing the eBook
Designing the eBook
Creating a landing page for your eBook
Writing eBook landing page copy
Setting up autoresponders, and more
You'll likely have to do the same things with other strategies, too. But the time and effort needed to launch a successful eBook lead generation campaign—compared to the results you'd get from it—is often not worth it, especially as many (if not most) prospects now leave falsified contact information or outdated email addresses. And this leads to my next point.
Some Prospects Submit the Wrong Info To Gain Access
It's not 2012 anymore, and people have grown wary of providing their details to just anyone asking for it. As such, many people submit false information when asked to sign up for an eBook—especially if it seems like the form is too long and complicated.
As a result, you might end up with an email list full of leads that don't match your buyer persona or don't even exist at all. And, of course, that defeats the purpose of most lead-generation efforts.
Now that we've discussed why eBooks may not be the best choice for lead generation moving forward, what other strategies can you use to get more leads?
10 B2B Lead Generation Ideas Better Than eBooks
These are some of the most effective lead generation ideas and strategies you can use for your business:
1. Webinars and Online Events
For the past few years in the marketing world, webinars and online events have been one of the most effective ways to build relationships with a target audience and nurture them through the sales funnel.
If you're not convinced, just look at these numbers:
– 91% of marketers who use webinars say they've been a success
– Over two-thirds (or 62%) of professionals feel ready to ask for a quote after viewing an appropriate vendor webinar or video.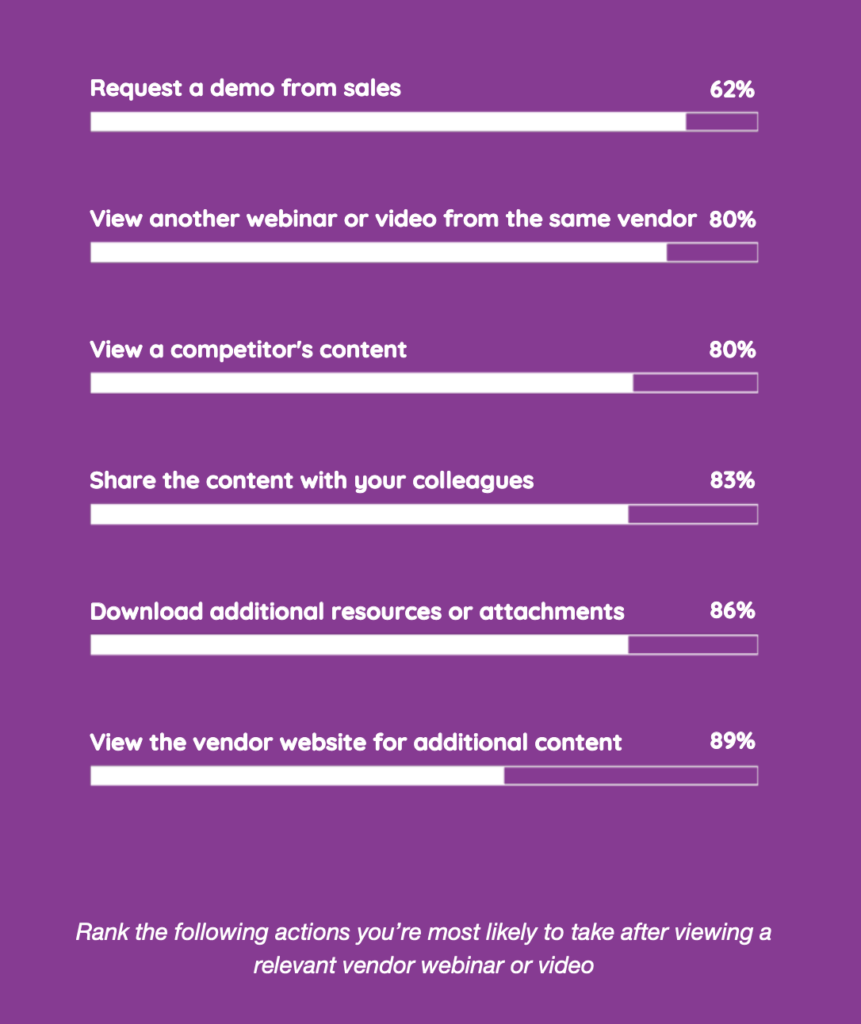 Those are mouth-watering numbers. But then, there's a key factor in the second stat that marketers and salespeople often overlook when thinking about webinars in their lead generation process—and that's "appropriate webinar or video."
No webinar can drive lead generation success without the right content and targeting. Your webinar has to properly address the needs of your target customers to generate leads for your business. And those needs also have to be tied to solutions your product or service can provide.
For instance, this webinar from Verblio in partnership with Clearscope is on the topic, How We Used AI to Help Build 1500 Pieces of Content in 90 Days.
It's a great example of the type of content that appeals to potential leads who would be interested in a product like Verblio's; they have an "AI Content Writing Services" offering and attendees of a webinar like this would be more likely to consider their product or service.
Since they're interested in a story about how AI helped a company generate content, they'd likely be interested in Verblio's AI-powered content writing solutions as well.
2. Templates and Cheatsheets
Templates and cheatsheets are other effective methods to drive success from your lead generation efforts.
They're especially effective when your target audience is interested in practically applying your ideas or products to their own work. This is powerful because it gives them a tangible way to take action and get results, showing them you know what you're talking about and are a credible source.
For example, if you provide content marketing services, you could create a cheat sheet of the best tactics for creating content that gets results.
Or, if you're selling sales and CRM software like Close, you can create a list of cold email templates for sales outreach. This way, you'll be attracting decision makers who're looking to drive sales and may need to use a CRM product somewhere along the way.
That's how templates and cheatsheets work; they seamlessly bridge the gap between what people need and the solutions you offer to fill that need.
3. Free Trials or Demos
One of the simplest ways to get significant leads and conversions is to offer a free trial or demo of your product.
This has 2 major benefits:
It shows potential clients what your product can do, which increases their trust in you and your product
It makes it super easy for people to buy because it's giving them a chance to test out the features of your product without having to commit to buying it
Since customers can test out what you're offering for free, chances are they'll be more likely to purchase after trying out the product—as long as it meets their expectations.
If you're selling a service, you could offer a free consultation or one-on-one call. Just make sure it's a win-win for both you and your potential customer—you shouldn't overcommit and they shouldn't get the fullest version of what you have to offer.
Or, if you're selling a software or SaaS product, you could offer a free demo or a time-limited trial. The most common duration is around 7 to 30 days, which gives people enough time to test out the product and decide if it's worth investing in.
For example, sales software brand Close offers a 14-day free trial: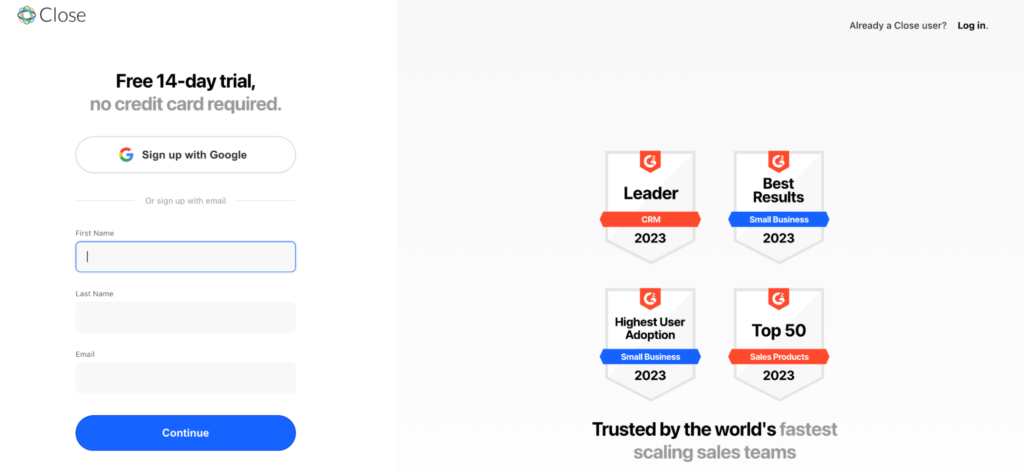 SEO company Semrush offers a 30-day free trial. But no matter which duration you use, the important thing to remember is to give prospects enough taste of what you offer so they can easily convert into paying customers.
4. Tools or Assessments
Free tools like ROI calculators or free audits are also effective lead generation tactics for many marketing and sales teams.
People love to learn their current status about a particular topic and get a sense of what they need to do next to get better results.
For example, if you're HR software, you could create a free assessment where people can answer a few questions to identify areas in their hiring process that could use improvement.
Or, if you're an SEO agency, you could create an SEO (Search engine optimization) audit tool that gives people a clear overview of the performance of their website and what needs to be done to improve their rankings.
A good example of this is McLean & Company's Talent Acquisition Process Audit Tool; it'll help to collect, identify, and prioritize initiatives to optimize gaps in your current recruitment process, so you can increase the quality of hires.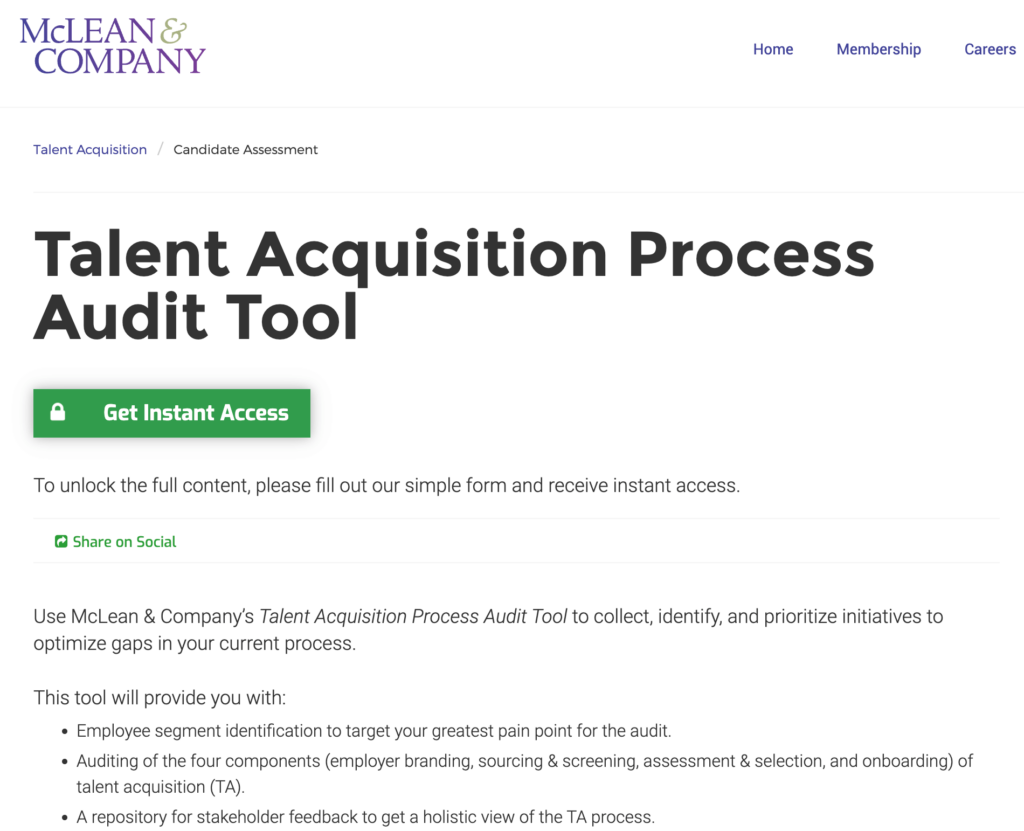 These tools are super effective for B2B lead generation because they show prospects what they need to do to get better results. They also guide them to the solutions you offer that can help them get better results.
At the same time, they also help establish credibility—by showing prospects the value of your products and services in a tangible, data-driven way. It's a win-win for both you and your prospects.
5. Social Media Contests or Giveaways
Social media contests and giveaways have been around for quite a long while now, but they're still hugely popular and effective as a lead generation strategy.
And these contests have a high conversion rate; there are several businesses that have shared how their contests have resulted in a high number of conversions and qualified leads.
A good example is SEMRush's #ShapeYourStory marketing campaign, where six lucky individuals will be randomly chosen in a prize draw, where they can walk away with either up to six months of free marketing services or an entire year's subscription worth $9,000 to SEMRush.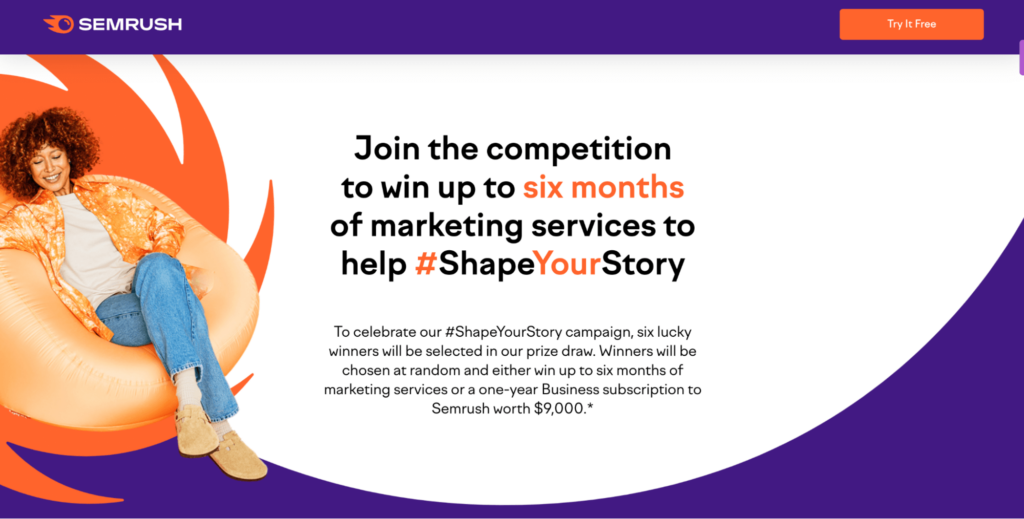 And contests like this often go viral, as people love to share and retweet them on their various social media platforms (LinkedIn, Twitter, etc)—which further increases your reach.
6. Referral Programs
With 84% of people relying on trusted recommendations from those they know, referral programs are one powerful lead gen strategy.
You can offer incentives like discounts or cash rewards to customers who refer their friends, family, and colleagues.
For example, Dropbox's referral program allows customers to get up to 32 GB of free space for referring friends, family, or anyone else they know.
And for many (if not most) customers, this creates enough incentivizes for them to spread the word about the product or service, which in turn, generates more leads for Dropbox.
But the key here is to create enough incentives. If you don't offer attractive rewards, most people won't take the time to refer your product or service.
7. Email Newsletters or Courses
With newsletters, courses, or podcasts, you can provide your prospects with regular content that educates them about topics related to your product or service and the problems it solves.
For instance, if you're selling a project management app, you could set up email courses that teach people how to manage projects better.
Or you could create a newsletter that features monthly tips and tricks related to your product or service.
A great example of this is Aleyda Solis' SEO Newsletter, SEOfomo, which is a weekly newsletter where she provides her audience (25,000 subscribers) with actionable tips and advice on how to improve their SEO performance.

These newsletters or courses should also include relevant CTAs so people can take action and learn more about your product or service. Best of all, email automation tools make it easy to follow up on interested generated by these methods.
8. Pop-ups or Slide-ins With Calls-To-Action
Some people think pop-ups are annoying, but if used correctly they can be very effective at generating leads. You can use a popup, opt-in or slide-in with a CTA to prompt your website visitors to sign up for your newsletter, download your latest case study, read a testimonial, or even purchase a product or service.
You could also use pop-ups to capture emails of your website visitors who didn't convert. When next they visit, you can use pop-ups to offer them a discount or freebie, encouraging them to convert. It's like retargeting ads to increase conversions.
That said, one key element of most effective pop-ups is personalization, where you customize your CTA and pop-up behavior based on the user's interests or past behavior.
For example, you could set up a pop-up to appear when someone visits your pricing page, asking them if they need help or have any questions. This can be extremely effective at converting leads that are close to signing up.
A great real-life example of this is this CTA that pop-ups just when visitors are about to leave OptinMonster's pricing page, encouraging them to sign up for their service.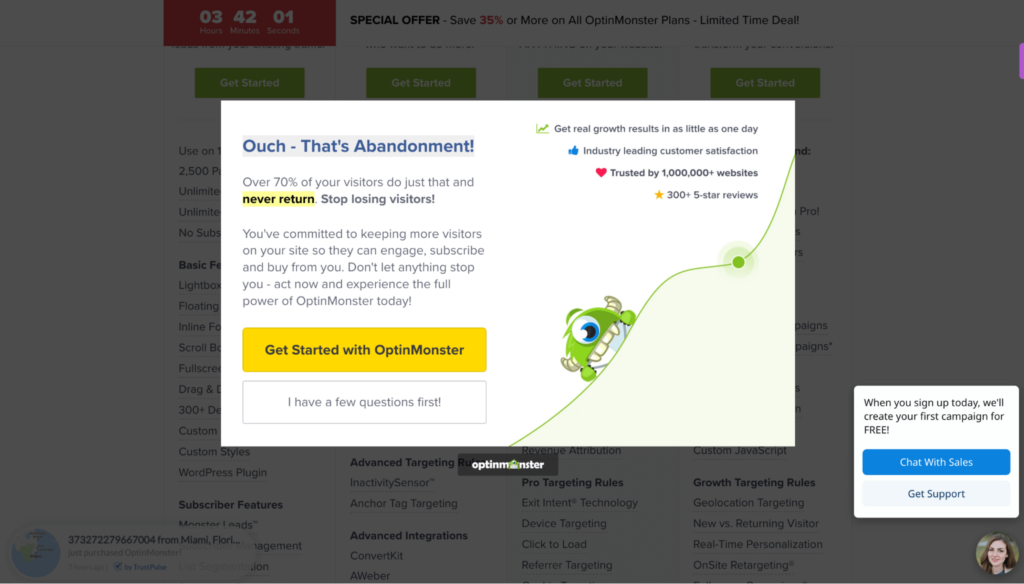 There's also another pop-up CTA at the bottom right, asking if they'd like to talk to Sales.
It's a smart way to generate high-quality leads because people usually have questions when they're about to make a purchase, and those pop-ups (especially the ones for chatting with Sales) help to get those questions answered.
9. Influencer Marketing
The influencer marketing industry expanded to a whopping $16.4 billion industry last year (2022). And the reason is obvious: it works.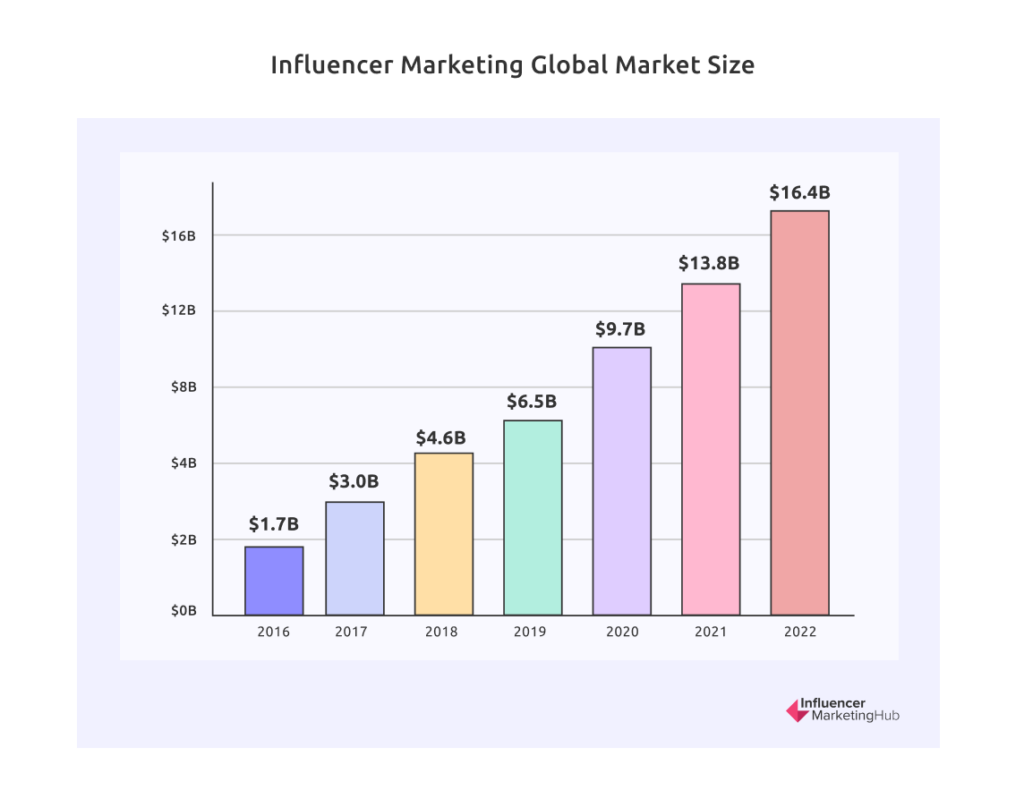 It's been working since it became a popular marketing strategy, and there's hardly any sign of it slowing down.
Influencers and thought leaders have captured the hearts of their followers, and their followers look to them for recommendations. So when an influencer with a lot of followers recommends your product, it's likely that a lot of their followers will check it out—provided it's relevant to them.
That's what makes it a powerful strategy to generate leads; people trust what their favorite influencers recommend.
But the key here is to make sure you choose the right influencers who have a good reputation and match your target audience—because if you pick the wrong one, your leads generated would be irrelevant and ineffective.
So it's best to take your time and research influencers who have the potential to generate leads for your business. And it doesn't matter if they don't have the highest number of followers; what matters is their influence on your target market and engagement with their followers.
10. Interactive Content
Interactive content is any content that requires prospects to engage with the content in order to get something out of it.
For example, you can create a quiz or survey and offer something in return (like a discount code) when they complete it. That's interactive content.
In most cases, the main benefit you get from it is you collect contact information from prospects, which you can use to reach out to them later. Or you could create a lead nurturing sequence that takes those prospects from strangers to customers.
Just make sure the content you create is interesting, relevant, and engaging. That way, leads won't find it hard to engage with your content and fill out the forms you provide.
Why is Lead Generation So Important?
Obviously, it generates new leads, but there are many other benefits such as:
Increases market share: Every lead that turns into a customer increases your market share
Raises brand awareness: Lead generation has the inherent potential to increase brand awareness and social proof
Boosts revenue: The more leads you get, the more revenue increases—provided you're closing those leads
Establishes trust and credibility with prospects: Your lead generation process helps build trust and credibility with prospects since you're providing them with valuable content in exchange for contact information
Improves marketing ROI: Attracting and closing the best leads improves marketing return on investment (ROI)
Helps you stay competitive: With a great lead generation and sales strategy, you stay ahead of your competition by getting more leads and customers
Take Lead Generation Beyond eBooks
As you've seen from the strategies above, you don't have to rely solely on eBooks and whitepapers to generate new leads.
You can branch out into other types of strategies too, like influencer marketing, pop-ups, and interactive content.
And you don't have to use everything at once. Take a critical look at your business, growth stage, and customers. Then look through the list and see which strategies best fit your goals and target audience.
Once you've settled on a few, test them out and measure the results. Track relevant metrics and results so you can improve your strategies as you go—until you find the combination that works best for your business.
Lead generation is an ongoing process, so treat it as such by constantly trying out new strategies and tactics. This way, you can stay on top of the ever-changing landscape and develop a lead generation process that doesn't just generate leads but also helps your business grow and stay competitive.