Small businesses are often characterized by lean teams, tight budgets, and lots of knowledge gaps. One way to maximize your limited resources is to put together an effective tech stack that improves your overall productivity.
Because, like it or not, we are in 2023, and 63 percent of your competitors say they'll increase their software budget this year. What are you waiting for?
While we may not be able to help you increase your budget or workforce, we sure know a thing or two about building a small business tech stack that increases profitability. And we're here to help (It's the least we could do 🙂).
In this guide, we'll demystify the process of building a tech stack for your small business. We'll also explain what a tech stack is, provide recommendations for different tool categories, and, finally, guide you through the steps of choosing the right tools for your business.
Ready? Let's start.
What Is a Tech Stack for Small Businesses?
A technology stack is a collection of software solutions businesses use to automate processes and ensure the smooth running of everyday operations. Sales, marketing, collaboration, customer relationship management (CRM), and analytics all have varied technology requirements.
But why do you need it? For starters, let's just say humans aren't naturally equipped to do some tasks, e.g., keyword research. And the ones we're able to do can take us forever.
Also, check out this survey by Asana: employees spend only 27 percent of their time on the work they're hired to do.
The rest? They spend it on repetitive tasks like documentation, sending reminder emails, backing up files, and so on. This is a huge revenue leak you need to plug. And that's where small business tech stack comes in handy.
Key Components of a Small Business Tech Stack + Top Recommendations for Each Category
The components of a small business tech stack may vary depending on the nature of the business. For instance, an eCommerce store's tech stack will look different from that of a software development company.
However, there are some categories of tools small businesses will need, regardless of their industry or vertical.
Here, we take a look at those tools and why they're important to your business.
Collaboration and Project Management Tools
Collaboration and project management tools are software applications or platforms designed to help individuals and teams work together efficiently on projects.
They help you facilitate internal collaboration, communication, organization, and tracking of project tasks and activities.
However, don't settle for just any tool. Entrepreneurs and small business owners should consider the following factors when making a choice:
Dashboard view: This is where you monitor individual tasks' progress as well as organizational milestones. It helps you keep tabs on your overall progress.
Budget: Since you're just starting out, you should consider a budget-friendly tool.
File storage capacity: How well can your select tools accommodate your data as you grow? File storage is an important factor to think of.
Integrations: Do they integrate with other software you use from day to day? If not, you'll have your work and data scattered across the place and that'll limit your efficiency.
Ease of use: Complex software should be a no-no if you want high adoption among your team members.
With that out of the way, here are our top picks for collaboration and project management software:
Zoom: This is a popular video conferencing tool, perfect for meetings, webinars, and team collaboration. It's known for its ease of use and robust features.
Asana: Asana is a project management tool that allows teams to track their work and manage projects efficiently. It offers features like task assignments, due dates, and progress tracking.
Google Drive: A cloud storage solution that allows for real-time collaboration on documents, spreadsheets, and presentations.
High-performance Customer Relationship Management (CRM)
A CRM tool helps businesses manage and analyze customer interactions and data throughout the customer lifecycle.
An ideal CRM should allow you to:
Centralize customer data: A good CRM will allow you to collect, store, organize, and find customer data easily. You'll have all the information you need in one place so you can easily understand customers and personalize their experience.
Streamline sales process: The right CRM will track and document all customers' interactions with you. This data may include pages visited, calls made, emails opened, and so on. All this information lets you understand a lead's goal and prioritize them accordingly.
Track sales activities and forecast sales performance: The ideal CRM will empower you track all your sales activities at both individual levels. You should have insights into what your reps are doing, monitor your pipeline, and what to expect. The Close Sales Funnel Report makes this so damn easy.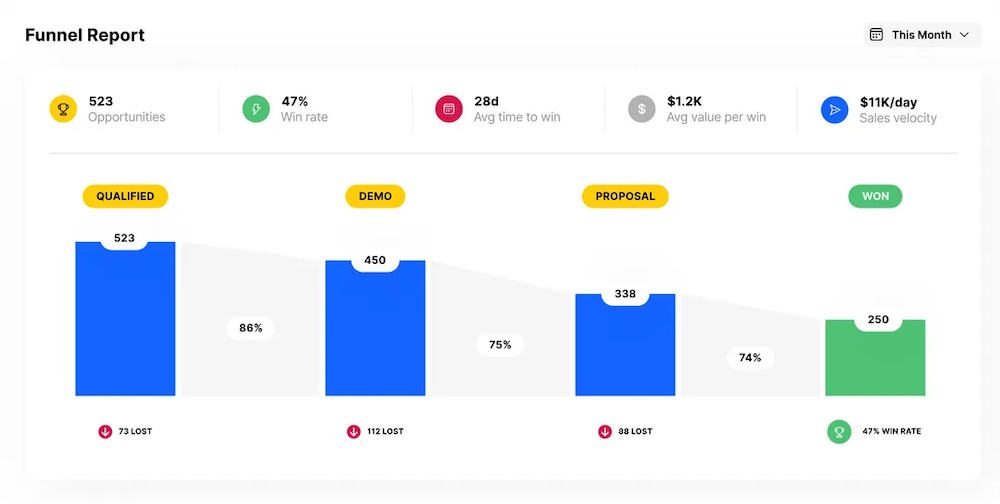 Before you settle for any CRM, check to see if it has the following features:
Contact management
Pipeline management
Analytics and reporting
Email marketing
Calling system
Ease of use
Mobile app
Those are the core features of any CRM. In light of that, here are our top CRM software choices for small businesses:
Close: Close is a CRM designed for startups and small businesses. It combines customer management with communication capabilities like email, phone calls, and SMS. If you're thinking about a high adoption rate, speedy setup, and a full-service tool, consider Close. But you don't have to take our word for it, you can learn more about Close here.
Bigin (by Zoho): Bigin is a CRM designed for small businesses, offering features like contact management, pipeline management, and reporting. Bigin brings sales, marketing, and customer support data together in one place so that you can have a unified source of truth for customer information.
Freshsales: Freshsales is another CRM of choice for many small businesses. It's good for identifying high-potential leads, pipeline visualization, and customer management.
Sales Stack
A sales stack refers to the collection of sales tools a company uses to support its sales process. This might be anything from a CRM (which we've mentioned earlier), to a proposal software, demo scheduling tool, etc.
These tools are necessary for the day-to-day activities of selling, such as scheduling a demo, booking a meeting, performing a sales analysis and report, and creating and signing a proposal. Without them, your sales team will operate in an analog mode (A.K.A., the old-school way), spend most of their time on tasks that could be automated, and miss their marks.
You sure don't want that.
For example, imagine how many calls they could make per day if they had to manually update contact information every time vs. if this was done automatically!
Here are some great sales tools your sales team can use:
Outreach: Outreach is a sales engagement platform designed to give you the complete picture of your entire buyer's journey. By eliminating data silos and connecting data from across different interactions, you can better understand customer experience and needs.
Leadfuze: Leadfuze is a prospecting tool for finding new customers and contact data. Thinking of finding high-target accounts, building lists, and syncing them with your CRM? Leadfuze lets you automate all that, saving you from manual list building and letting you focus on selling.
Savvycal: Savvycal is a highly customizable meeting scheduling tool. Aside from being aesthetically pleasing, users love Savvycal for its overlay feature, which lets you compare your and your prospect's schedules before scheduling a meeting.
Marketing Tools
A marketing tech stack helps businesses plan, execute, and measure digital marketing campaigns. Without marketing automation these days, there isn't much you can do in marketing, unless you want to put up billboards in Times Square.
That said, here are some marketing tools to get you started:
Reform: Reform is a form builder for collecting customer information, taking surveys, and getting customer feedback. It's very easy to use.
Mailchimp: Mailchimp is an email marketing platform that comes with email automation, analytics, segmentation, and A/B testing features. Aside from handling all your email marketing needs, it's also a good social media marketing tool.
Ahrefs: Ahrefs is an all-in-one SEO software. Features include keyword research, competition analysis, content ideas, and rank tracking. If you're using content marketing and SEO, there's no doing away with Ahrefs.
Automation and Analytics Tools
Automation and analytics tools help automate repetitive tasks, improve your workflow, and provide insights into business performance.
As the saying goes, you can't improve what you don't measure. Analytics tools give you the metrics you need to see how you are progressing toward achieving your business goals.
Here are some suggestions on the automation and analytics tools you can start using today:
Zapier: An online automation tool that connects your favorite apps, such as Gmail, Slack, and over 5,000 more, to automate repetitive tasks without coding or relying on developers to build the integration.
Fathom: Fathom Analytics is a Google Analytics alternative with a better user interface. As a cookie-less software, Fathom prides itself on user privacy and unlimited data retention that's never deleted–unlike GA4. You can also send yourself or your team an email on the performance report of your website or app.
Chorus.ai: Chorus.ai helps you analyze customer conversations and determine why you're losing or winning deals. This will allow you to do more of what's working and eliminate roadblocks to deals. It also helps you uncover customers' behavioral changes and trends, which you can use to improve your product and plan marketing campaigns effectively.
How to Choose the Right Tools for Your Tech Stack
Once you've familiarized yourself with the different types of tools and some of the top recommendations, it's time to choose the tools that are right for your tech stack.
But we don't want to leave with just our recommendations. You should be able to assess your own needs and make an informed decision.
Here is a step-by-step guide on how to choose the right tech stack for business growth.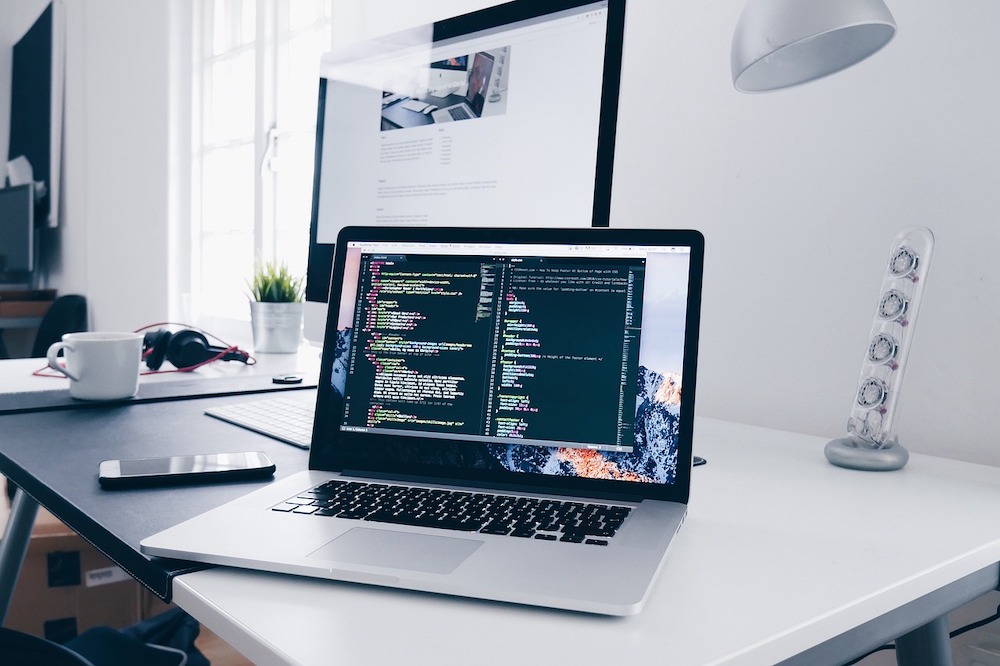 Step 1. Identify the Needs of Your Team
Look at your current processes and see where technology can enhance productivity by automating tasks.
This can be done by conducting interviews or surveys with your team members to understand their pain points and areas where technology could make a difference.
Collaboration with the IT department or technology experts can also help identify emerging technologies and trends that can benefit your team. With input from your team, data, and staying up to date with technological advancements, you can identify the technology needs of your team members.
Step 2. Define a Budget
This is an indispensable consideration.
Know how much you're willing and able to spend on subscriptions to software tools. Remember, investing in the right tools can significantly improve productivity and revenue in the long run.
But you also want to ensure that the allocated funds are utilized effectively. Here are some steps to take:
Evaluate current needs and future growth: Begin by assessing the current state of your team's technology infrastructure and identifying any gaps or limitations. Consider the specific tools and software required to streamline processes and support the team's goals. Also, anticipate future growth and scalability needs to avoid frequent upgrades or replacements.
Research and compare options: Explore different technology vendors and solutions available on the market. Consider factors such as functionality, compatibility, user-friendliness, and pricing models. Obtain quotes or proposals from multiple providers to compare costs and features. This research will help you make informed decisions about which tech stack components are most suitable for your team's needs and budget.
Step 3. Try Different Tools
Most software tools offer free trials. Use this opportunity to test out different tools and see which ones are the most intuitive and beneficial for your business. For example, Close offers a free trial and an on-demand demo video to help you understand its capabilities better.
You can sign up for a 14-day free trial of Close here.
Step 4. Evaluate Tool Integration
Ensure the tools you choose can integrate seamlessly to create a cohesive tech stack. One of the surefire ways to slow yourself down is by having to open too many tabs to complete one task.
Of course, using multiple tools is inevitable. The trick is to limit the time you spend juggling between them as much as possible.
With proper integration, you'll have seamless data flow and process automation.
Psst… we teamed up with other startups to build out the Indie Stack—a group of tools that work together seamlessly to produce real results for your sales team. Check out the Indie Stack here.
Step 5. Consider Customer Support
If everything above checks out, there is one more thing to do: evaluate the software provider's customer service. When problems arise, prompt and useful assistance is crucial.
No matter how amazing your tool of choice is, you don't want to be helpless, unable to reach customer support when you encounter occasional glitches.
And believe me, such occurrences are unavoidable in the software industry.
Step 6. Make Your Decision
Finally, the time for decisions is here.
Once you've evaluated your needs, figured out your budget, compared options, checked the integrations, and tested the customer support, you're a go. Remember, your tech stack can evolve as your business grows and changes.
But with all the steps listed above, you've done your due diligence and have the knowledge you need to make an informed decision. Now, go try that out.
Build out Your Small Business Tech Stack to Improve your Bottom Line
Building a tech stack for your small business isn't rocket science, but you should be deliberate about it.
What you need is a careful analysis of your business needs, budget, and the potential benefits that each tool could bring to your operations. Most importantly, you need to know how the tools fit into your workflow and avoid unnecessary costs.
Done right, a well-constructed tech stack can lead to significant productivity and efficiency improvements, giving your small business a competitive edge. Do you need a CRM for your sales team? Sign up for a 14-day free trial of Close.