Before jumping into the how-to, I want you to understand the concept of social media marketing and why it's vital for sales professionals. The reason for this is: social selling and social media marketing go hand in hand.
Social media marketing is the use of social media platforms to connect with your target audience, build brand awareness, increase sales, and drive website traffic. It involves publishing great content on your social media profiles, listening to and engaging with your followers, running social media advertisements, and analyzing your results.
To ignore social media these days is to ignore a consumer market of almost five billion people. No serious business owner can afford that.
As a sales professional, you need to understand that social media marketing paves the way for social selling. Unlike direct response advertising or cold calling, where you contact a prospect and immediately begin selling, you must build a relationship first.
The Role of Social Media in Sales
More than just marketing tools, social media platforms are powerful sales tools, too. By connecting and engaging directly with your target demographic, you can cultivate relationships, foster trust, and influence buying decisions.
It's also a good place to get the attention of decision-makers who may otherwise be hard to reach (more on that later).
As a sales rep, you can become a thought leader in your niche, offering valuable content and establishing credibility with decision-makers.
And most importantly, you can sell. A study by Statista shows 72 percent of social media users find social shopping convenient.
For B2B sellers, LinkedIn Sales Solution says brands that use social selling create 25 percent more opportunities than their peers with a lower Social Selling Index. Not too bad!
Aside from lead generation, engaging people on social media is also an effective way to build brand awareness and loyalty. Those who were previously unaware of your product will become aware of it, and those who have been using it will become committed customers.
Without further ado, let's delve into practical steps to use social media platforms to boost your sales—starting with, well, the king of B2B sales: LinkedIn.
Build Your Personal Brand on LinkedIn
You already know the importance of LinkedIn for B2B marketers and sales professionals. But in case you didn't, 62 percent of B2B marketers say LinkedIn generates leads at twice the rate of their next-best performing social channel.
But here is something that will absolutely blow your mind. Know how hard it can be to reach decision-makers? LinkedIn kind of solves that problem, as 94 percent of CEOs who use social media say they use LinkedIn.
The question is: how do you tap into LinkedIn's massive sales potential?
Create a Winning LinkedIn Profile
Your profile is your first impression to the visitors—your best opportunity to hook them in. What do they say about first impressions again? It lasts forever. In the case of LinkedIn, it determines if you're worth engaging with.
To help your LinkedIn profile must stand out, follow these steps:
State clearly what your business is all about and what it does
Include keywords related to your industry and position
Use a professional headshot (if you're an individual) or your company logo if you're a business (Profiles with a clear profile picture are 14 times more likely to be viewed or get a response)
Have a compelling headline and an excellent bio section
For an individual profile, Bani Kaur, a popular freelance writer, comes to mind.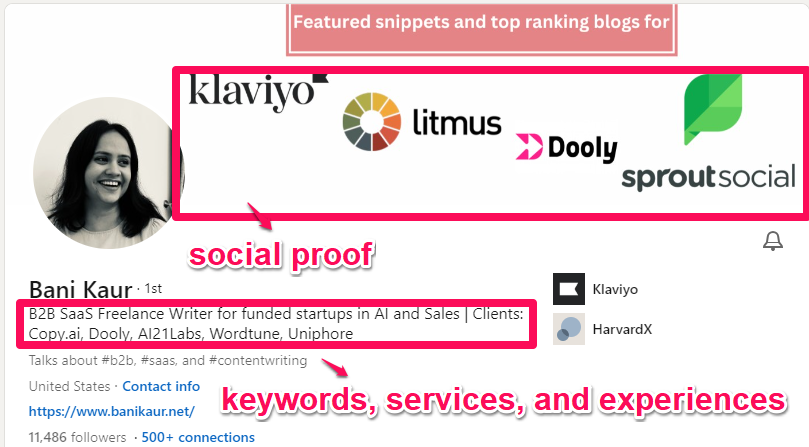 She makes it easy for her potential clients not only to find her but also to trust her by including:
Her professional services
Keywords related to her industry and niche
Social proof (brands she's worked with)
Professional headshot
Here is an example of a good company LinkedIn profile: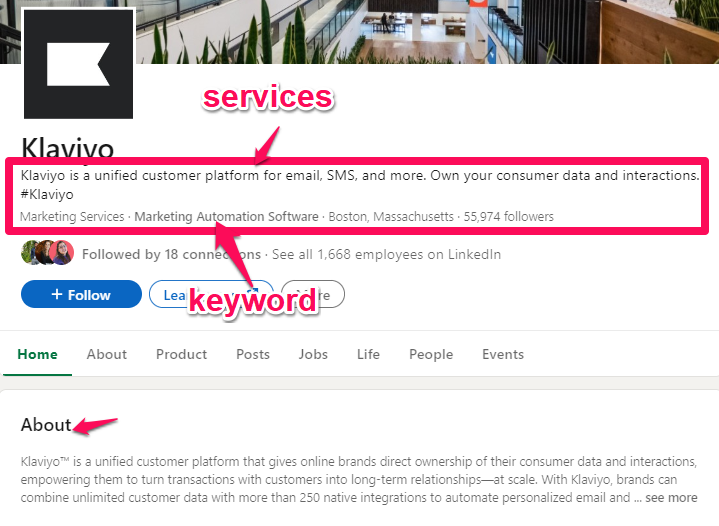 What I like about Klaviyo's LinkedIn profile:
Mentions their services
Uses relevant keywords
Brand logo is front and center
A clear and credible About section
Both examples leave no doubt as to what they do, which industry they operate in, and who they are.
Publish and Share Relevant Content
After setting up a great profile, the next step is to build an audience by regularly posting and sharing valuable content. The 2022 Content Preference Survey by Demand Gen found that users are looking for educational content, not sales pitches.
The types of content you can use include:
Text-only posts
LinkedIn articles
Video posts
Carousel posts
While you should avoid writing a post simply to pitch your product or service, make sure to use CTAs (call to action) when appropriate. You don't want to waste your time by not telling followers what you do!
Here is a good example of a LinkedIn carousel post where the author shared tons of value and delivers a killer CTA:
When you share really helpful content on a regular basis, you'll soon become their go-to source for anything relating to your industry, resulting in more eyeballs for your business and, ultimately, more sales.
Engage Other People's Posts for More Exposure
Another way to start a conversation is to leave helpful comments on other people's posts. You may not have a lot of followers, and your posts may not get to all the people you want them to. But dropping valuable comments on other people's posts will expose you to a wider audience.
I made a valuable connection a couple of months ago using this strategy. After dropping a comment on one post, Trish (in the screenshot below) sent me a DM: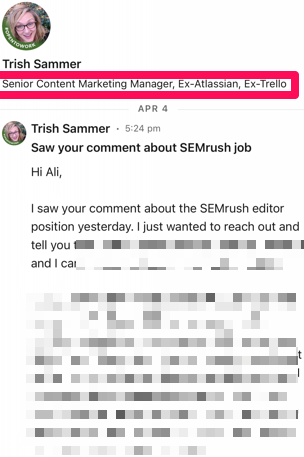 From her title, it's obvious that Trish here is my potential client, and she reached out to me after reading my comment somewhere on LinkedIn.
Although Trish hasn't hired me yet, with proper nurturing and time, she could become my client in the future.
Personalize Connection Requests
When sending LinkedIn requests to potential clients and customers, don't just send the request. Personalize it by adding a message that establishes rapport from the start.
Something as simple as a message about how you came across their profile could go a long way. Here is an example of a message I could send to a potential client:
"Hey [first name],
I hope you're doing great. I came across your profile while searching for great editors in the content marketing space. Your role as the editor-in-chief at [company name] caught my attention.
It would be a pleasure to connect with you.
Best,
Your name"
As simple as it is, this can start a relationship and keep you on their radar.
Engage in LinkedIn Groups
Finally, participate in discussions, answer questions, and offer insights. You can't tell who might be reading. While LinkedIn groups aren't as active as they used to be, the right group may help you connect with potential prospects.
Master Social Selling on Instagram and TikTok
Instagram and TikTok are booming with eCommerce potential, especially with the younger demographic. But it gets better. Research shows 36 percent of TikTok users in 2021 were between the ages of 35 and 54. It's more than just a dancing platform for lip-syncing teenagers.
When you think about it, these are typically the people with the most purchasing power as adults, often running a business and raising a family.
Social commerce, where users can purchase directly from social media posts, is becoming increasingly prevalent. Instagram users and TikTok's audience love visually engaging content, making these platforms ideal for showcasing new products—even software.
There is no better time to take your business there, even if you are in B2B. Here is how and why.
How to Use Instagram to Generate Sales
Step 1: Use Instagram Shopping Features
Instagram Shopping allows you to create a product catalog right on Instagram. It enables users to make a purchase directly on Instagram or visit the vendor's website.
With over 130 million people tapping on Instagram Shopping each month, there is so much money to be made. You just need to sign up for it.
Here are some features of Instagram shopping:
Instagram shop: This lets you customize your digital storefront so that users can buy from it directly.
Shopping tag: This lets you tag a product in your Instagram posts, stories, and reels so your audience can click and check out the product directly.
Product display pages: This is where Instagram displays all your product information such as pictures and item descriptions. It keeps customers from needing to leave the app.
Checkout: This isn't available in every country, but in the regions where it is available, it allows users to make purchases without leaving the app.
Step 2: Use Instagram Hashtags
Use hashtags on Instagram to label your content and gain more visibility. By adding hashtags to your posts, they will be made visible on the corresponding hashtag pages, where more people can discover them.
Step 3: Partner with Influencers
If you want your product or service to reach a larger audience, partner with popular creators to promote your brand. Influencers have a massive influence on Instagram and seeing them use your product can set off an impactful buying fever among their followers.
The key is to find an influencer whose reputation and niche suit your brand.
How to Use TikTok to Generate Sales
If you think TikTok isn't for B2B vendors or software services, consider this: Adobe, Shopify, Grammarly, and Square are already on TikTok and doing well.
TikTok for Business, in collaboration with Material, conducted a survey in 2022 and discovered that 35 percent of users are 61 percent more likely to be top spenders than users of other social media platforms.
They're also 2x more likely to recommend a product they found on TikTok and 1.5x more likely to succeed in convincing others to buy it.
Need a real-life example? Here is a post from the founder of a digital marketing school admitting to using TikTok as a search engine. And it's in your best interest to be there when they're searching.
If you feel it's time to bring your brands to the massive customers on TikTok, here is how to go about it:
Step 1: Jump on Trends
TikTok is a platform where users join trends and have lots of fun. The rule of thumb is to let your personality shine through. Dance if you have to. The top executives you're targeting are humans, too, and they'll appreciate your sense of humor.
Here is Zendesk ingesting a sense of humor into their marketing on TikTok:
Step 2: Show Your Expertise
Contrary to what most people think, TikTok is also a huge learning hub. Aside from the research cited earlier showing how people use it for research purposes, I've seen quite a number of educational posts go viral on TikTok.
Take this guy, for example. He's a career coach and normally gives tips on how to improve interviewing skills. Aside from his millions of followers, this single post has received over 700,000 reactions.
Step 3: Demonstrate How Your Product Works
Another way to generate sales on TikTok is to demonstrate how your product works to your followers. Adobe does this really well.
Here is an example:
@adobe Dream bigger with us. ✨ Introducing Generative Fill in the @Photoshop (beta) app – a new magical way to create extraordinary imagery from a simple text prompt, powered by #AdobeFirefly ♬ original sound – Adobe
Step 4: Encourage User-Generated Content
If you can get your customers to make videos, sharing testimony on how your product has helped them, you'll gain more customers.
Although TikTok has influencers, user to user testimony is a very efficient approach to convincing viewers to try your brand.
Step 5: Use TikTok Shop
TikTok Shop lets vendors showcase and sell their products directly through an in-app experience.
This can be done via live shopping, shoppable videos, or product showcases.
Use Twitter for Social Listening and Customer Engagement
Twitter is a powerful tool for social listening, customer service, and engagement. It's the best place to monitor tweets mentioning your brand, respond promptly, and address any issues or questions.
You can also use Twitter to share updates, engage with thought leaders, and showcase your brand's personality. From joining trending topics to sharing your honest opinions and even getting in trouble, Twitter is a hotbed for shaping perspectives.
Here is how to use Twitter to help your sales goals.
Set a Goal for Listening to Your Customers
You first have to understand your goal with Twitter monitoring. If it's to attract leads, for example, you'll pay attention to trending topics in your industry.
And if it's for getting customer feedback, you'll have to keep tabs on your brand mentions and timeline mentions from time to time. The bottom line is: know your goal and let that inform your Twitter strategy.
Set up Twitter Notifications
To respond promptly, set up notifications for brand mentions, replies to your tweets, news, and so on. Of course, this is the default setting on Twitter, but it's worth mentioning.
Choose a Listening Tool
Social listening tools allow you to monitor brand mentions as well as trending topics in your industry. This allows you to swiftly respond to bad reviews and mitigate their effects.
Listening tools like Brand24 and SproutSocial also alert you to trends in your industry.
Build an Effective Social Media Management Plan
To maximize the sales potential of social media, sales reps need to manage their social media presence effectively. This includes scheduling regular posts, tracking metrics, using templates for responses, and integrating with a CRM for seamless customer relationship management.
Action Steps:
Create a content calendar: Plan and schedule your social media posts ahead of time.
Use a social media management tool: This allows you to manage multiple social media channels from one dashboard, schedule posts, and track your metrics. Hootsuite and Buffer are good tools you should consider for this.
Integrate with a CRM: A CRM system will allow you to track interactions with potential and current customers, ensuring a smooth sales cycle. Close is your best bet if you're looking to have a seamless experience.
Utilizing Social Media for Sales Funnel Optimization
Social media platforms can be used at each stage of the sales funnel—from brand awareness to conversion. By providing relevant content tailored to each stage, salespeople can guide potential customers through the buying process.
Here is how to use social media to optimize your sales across different stages of the funnel.
Brand Awareness
The first stage of a customer's buying journey is awareness, and it is your responsibility to optimize your social selling approach to capture this stage.
The goal at this stage is to familiarize your target market with your brand by highlighting their pain points and the solutions your brand provides.
Let's say you own a job board. This period of massive layoffs caused by the emergence of AI is ideal for creating content about:
How to maintain job security
How to find a new job during an AI job loss tsunami
The trick is to make this content helpful and memorable, and it can come in several forms, including social posts, ads, video content, and links to blog content.
The form doesn't matter as long as it resonates with them and makes them want to learn more about you. If you succeed in this step, you'll have a list of potential customers ready to be nurtured and converted.
Consideration
Now that they're aware of the problems and the possible solutions, it's time to persuade them not to try other alternatives. What exactly do I mean by that?
In this case, alternatives don't just refer to your competitors but also to other means of solving their problems.
If you know their driving motivations, such as safety, cost, time, and so on, you should be able to convince them that you have the best solution.
To win them over, provide valuable content that solves problems and establishes your brand as a trusted authority. Case studies, webinars, and online workshops are some forms of content you could use to do this. This builds trust and drags them further down the pipeline.
Try running ads to retarget users who have interacted with your social profiles or website.
Conversion
In this stage, prospects have become quite familiar with your brand and know more about what you offer. This is the perfect time to gently nudge them to make a purchase.
The key here is to use incentives. Offers like free shipping, discounts, and so on can move a customer from sitting on the fence to making an immediate decision.
Use direct messages, personalized offers, and testimonials to influence the final buying decisions.
Social Media Helps Drive Sales
In the digital age, leveraging social media for sales is not optional; it's a necessity. Ignoring it could mean missing out on a huge source of revenue for your business.
With the steps outlined in this post, whether you're a B2B or B2C seller, you can turn your social media accounts into a sales engine and succeed.
Remember, the goal is not just to sell but to build lasting relationships with your customers through these social media networks.
Remember Steli Efti's advice: "Success in sales is about persistence, hard work, and strategy." By integrating social media into your sales strategy, you're employing a smart, modern, and effective tactic to help your business thrive.
So, it's time to log in, post, share, like, and tweet your way to greater sales success!