Wondering whether the TAS sales methodology is worth the effort? Think about what's better: spending a month closing five deals worth $1,000 each, or a month closing one deal worth $50,000?
Sometimes the best deals are the hardest to close. But putting in the time and effort is worth it.
How can the target account selling (TAS) sales model help you close these big fish? When is this model right for your business? How can you make sure your team is getting the most out of this methodology?
What is TAS Sales Methodology?
The TAS sales methodology stands for Target Account Selling. This B2B sales method involves carefully choosing the businesses you want to sell to and assigning these targeted accounts to your team. The goal: spend more time developing deeper relationships and closing higher-tier deals.
With the TAS model, quality is the focus—not quantity. A team that focuses on target account selling will probably close fewer deals. But those deals will be worth more to the company, bringing in more revenue for each purchase and increasing customer retention rates.
Targeting and selling to key accounts can also mean more time in the sales cycle. Of course, this doesn't mean you need to pander to tire kickers. But it does mean you should expect longer (productive) sales cycles that lead to more valuable deals.
How the Target Account Selling Model Works in 7 Steps
Let's take a look at what target account selling looks like in the real world. Here are 7 key stages of this sales model, plus tips on how to optimize each step of the way.
1. Create a Precise Ideal Customer Profile
Your ideal customer profile is a description of the type of customer that perfectly fits with what you're selling. This profile is based on deep customer research, digging into your most successful customers and what makes them such.
For the TAS sales methodology, this goes one step further.
Since you're looking for highly targeted sales, you need to start with a highly targeted customer profile. You should know everything about these ideal accounts, specifically the key attributes that make them so successful with your product.
(Psst… Looking for a way to speed up the process of creating ideal customer profiles? Get started with our free ICP creation kit.)
2. Align With Marketing on Ideal Leads
Don't create your ICPs in a silo. Integrated work between the marketing and sales teams will not only give both teams more explicit goals—but it's also the key to success in the TAS sales methodology.
Marketing and sales alignment doesn't happen automatically. But when these teams have the same vision of your highest-value leads, they can target and bring in the right kind of inbound leads to your sales team.
TAS sales works best when you have a clear inbound and outbound strategy. Spend time regularly aligning with your marketing team, and they'll generate better inbound leads for your sales team to work on.
3. Spend Time Researching Each New Account
New account in your sales pipeline? Time to put your research cap on. Since TAS sales focuses on quality over quantity, your reps must be 100% sure that the accounts they're spending time on are really worth the effort.
The time spent on research upfront equals time saved later on. Your team's resources will fully focus on the accounts that are most likely to close (and become successful customers).
Want to level up your team's research game? Get them the right sales stack to make research smoother. This could include:
Pro tip: Before adding to your tech stack, always make sure your lead generation and sales intelligence tools play well with your team's favorite CRM. Close integrates with top prospecting and intelligence tools to make sure your team is always targeting the right accounts—check out our top integrations here.
4. Build an Account Map
Account mapping is a key aspect of the TAS sales model. More than just an org chart, an account map will give you insights into key connections and relationships within the target company, giving you a clear path to the sale.
Use the research tools we mentioned above to sniff out key decision-makers at your target company and start building relationships with them.
Complex sales always require more than just one contract. If your team only focuses on building a relationship with a single stakeholder at their target account, they run the risk of losing the deal in the final stages because other key stakeholders weren't involved in the process and don't understand the value of your product (yet).
Reps who build an account map for each new target account can see who should be involved in sales conversations from day one. Then, they'll be able to build an army of internal champions.
5. Nurture Key Stakeholders
Once you've built your account map, you need to nurture those relationships.
TAS sales may take time. By actively nurturing key relationships at a target account, your reps will be winning over the people whose opinions really matter at the company.
Aside from sales meetings and product demos, they might spend some time engaging with key decision-makers on social media. Or, maybe they'll work to nurture stakeholders with personalized videos in sales emails. Most importantly, find a way to keep in touch with key stakeholders so you get a sense of what's going on internally. For example, if you're selling a data warehouse solution and have established that your solution is a better fit for them, you want to know when their contract renewals are due, etc.
The time your team spends nurturing these relationships will be worthwhile when it comes to the next stage.
6. Negotiate and Close Those TAS Sales
Closing the sale may be the hardest part of the TAS sales methodology. With the steps above, your sales team has set a good foundation to close the deal. Now, it's time to dive into that closing process and speed it up.
One way reps can optimize their efforts at this stage is to align their closing process with the company's buying process.
For example, a complex purchase process likely has multiple steps that are often completed one by one, but could be done in tandem.
How do you align your process and shorten the sales cycle at this stage? Simple: go for what I like to call the virtual close.
"What will it take for you to become a customer?"
Keep asking follow-up questions to understand the buying process. Have them talk you through the process their business must take to close the deal. This will tell you exactly what the company will need from you, and give you insights into ways to speed up the process.
For example, does their engineering team need to sign off on key integrations? Prepare the technical information they need. Does the legal department need to take a look at your security features? Send over all your security and privacy information early.
Don't wait for someone to tell you what they need to finish the deal. Proactively close the deal by understanding their buying process and aligning with it.
This will shorten the sales cycle for complex deals, and help your team get these valuable, targeted accounts across the finish line.
7. Continue to Nurture Closed Customers Alongside the Customer Success Team
The TAS sales methodology doesn't end when the contract is signed. Your team has spent a lot of time and effort to turn specifically targeted accounts into customers. So, you should be putting equal importance on keeping these high-value customers.
At this point, alignment between your sales and customer success teams is a must. The transition between these teams has to be smoother than Trader Joe's peanut butter—otherwise, these new customers could feel abandoned.
Here are two strategies to nurture and transfer closed customers:
Have your sales team continue to work with closed customers: For example, here at Close, our sales team quarterbacks deals for the first 6 months after they become a customer. New customers are helped by the sales rep they know and trust already to get onboarded successfully to our CRM system, and after that, a smooth transfer is made to the customer success team.
Make sure your sales and success teams are working transparently: To accomplish this, they need to be using the same tools. Align your sales and success teams with a CRM that gives full visibility into relationship history and key moments in the customer's journey and lifetime.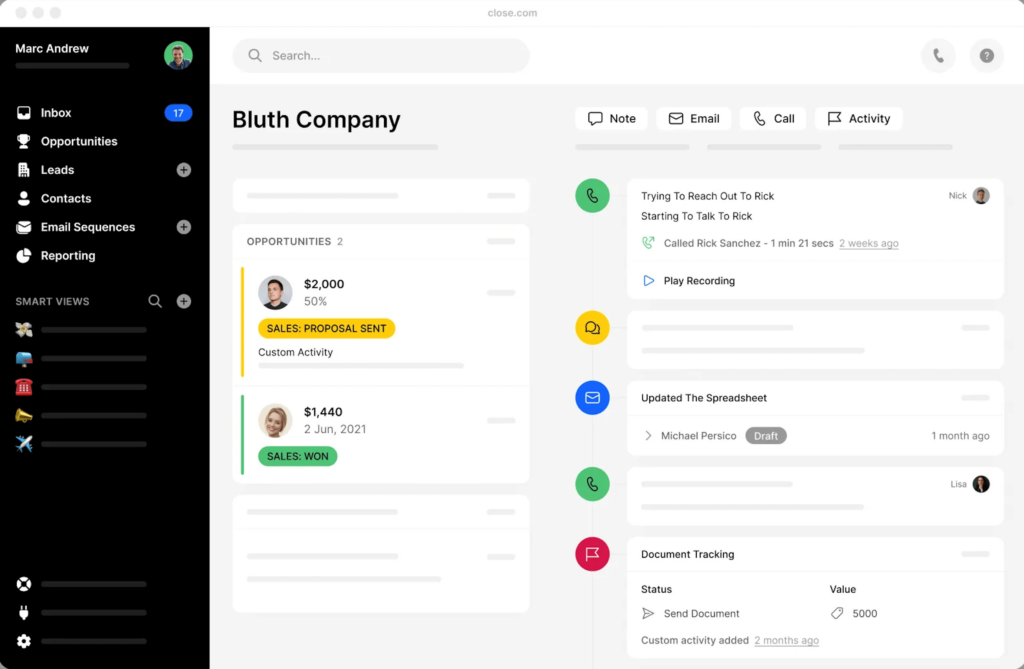 Using the TAS model correctly, you'll not only target the right accounts—you'll also help them become successful, long-term customers.
Target Account Selling Model Examples
So when is the TAS model appropriate for your business? Let's talk about two examples of the types of sales where this model is especially valuable.
Enterprise Sales
Selling to enterprise companies is an extremely complex process, and can take months to complete.
With TAS, your team does the necessary research in advance. Then, they can target the right businesses and the right people within that business.
In the end, enterprise sales is still selling to people. Using the target account selling model helps your team sell effectively to the people who matter inside that business.
SaaS Sales
If you've built a SaaS product, you know exactly who that product is for. You know their pain points, and you know why your solution works for them.
In this case, the TAS sales methodology helps your reps focus on the businesses that will see the most value from your product. This model is especially useful when your product solves a specific niche problem for a certain type of customer.
For example, let's say you sell marketing analytics software that analyzes paid social ads. While technically your customers could be any marketing team, you'll have more success if your sales team focuses on selling to marketing teams that are heavily focused on paid ads on social media. These are the targeted accounts that will see more success with your product.
That said, if your product isn't as niche-focused, the TAS model may not be the best approach for your sales team.
TAS Model Advantages and Disadvantages
So, what kind of value will you see from this sales model? What main challenges will you need to overcome?
Benefits & Advantages of the TAS Sales Model
Have you decided that target account selling is a good fit for your business? Expect these high-value advantages:
Closes higher-priced deals: By targeting only the most valuable prospects, your sales team will close fewer deals, but they'll bring a higher price tag as well as longer-lasting value to the company.
Builds stronger relationships with multiple stakeholders in an account: This prevents big deals from getting derailed at the end by stakeholders who should've been involved from the beginning.
Aligns your whole company to focus on higher-paying deals: The TAS model is built on alignment between marketing, sales, and customer success. When these three teams are fully aligned to target the best customers, your company will see big results.
Challenges & Disadvantages of the TAS Sales Model
Take these cons into account when considering the TAS model:
May take longer to close deals: Research, qualifying, nurturing, and negotiating all take time from your sales team. Since the TAS model is built for more complex deals, keep in mind that these can take longer to close.
Requires strong research skills: If your reps don't know how to research key accounts efficiently, they'll waste a lot of time on prospecting using the TAS model.
More time spent on internal team alignment: Yes, that means more meetings with marketing and customer success. If these meetings help you all get on the same page, they're worth it. If not, it's just wasted time blocks in your calendar.
May increase spend on tech stack: Your sales team can only be successful at the TAS model if they have the right tools for research and sales intelligence. If you're going headfirst into this sales model, prepare to increase your tech budget.
How to Master the TAS Sales Methodology at Your Company
Want to get it right from the get-go? Here are three keys to success with the TAS sales methodology:
Learn to play well with marketing and success: If you already have strong working relationships with the people on these teams, you have a head start to making TAS work for your company.
Develop strong research skills across your team: Research is a skill that can be taught. If they aren't good at it yet, train and coach your reps to research better and faster.
Emphasize quality over quantity: If you're still pushing for a high quantity of deals closed, you'll be stunting your team's ability to succeed in the TAS model. Give proper emphasis to the quality of the deals that are being closed, and focus on sales metrics that show the results of that emphasis.
Is the TAS Sales Method Right for Your Business?
The TAS sales model is a great fit for businesses serving a specific niche or targeting high-value enterprise customers.
To decide whether the TAS model is right for you, start by building your ideal customer profile. Use real customer research to see who is seeing success with your product, and what attributes they share.
Do these key attributes form a very niche-specific customer? Or are they more general attributes, like business size or role-based?
Target account selling will bring more value to your business if your ideal customer profile shows a clear niche-specific need.
Ready to align your company and sell better to key accounts? Get your free copy of Enterprise Sales For Startups for actionable advice on closing major deals!